Marist News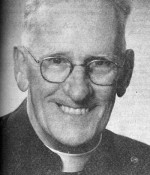 September 1, 2019
Fr Kevin McGrath continued as editor ...
1959
6/- for one year
January
"Fourteen students of five races have already enrolled at the new Corpus Christi Teachers' Training College in Suva which was blessed by the Most Reverend Romolo Carboni, Apostolic Delegate to Australia, New Zealand and Oceania".… More
Full Story»

This article aims to convey something of the spirit and 'flavour' of the magazine while Fr Kevin McGrath continued as editor.
1948
March
The first American Superior General of the Society of Mary, Fr Alcime Cyr SM, "now spiritual father of 1,500 Members of the Society of Mary throughout the world", was elected.… More

By the Editor
Since it began, the Marist Messenger has carried a wealth of information about Pacific, New Zealand and Australian Church history, about Marist history, ministry among Māori, and about Marist and Church
personalities. There was also a wide range of devotional material and poetry.… More

Susitino Sionepoe SM was ordained bishop on 24 March 2019 in the Cathedral of Our Lady of the Assumption in Matā'utu, the capital of Wallis and Futuna.
More in this category