Poetry and Art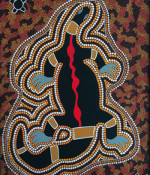 Jesus Dreaming(Comments Off

on Jesus Dreaming

)
May 1, 2018
A Theological Reaction to Michael Galovic's
Creation of Lights in the Heavens
The religious historian, Mircea Eliade, wrote of the 'eternal return' the religious belief that liturgy and prayer can put the believer in touch with the 'mythical age', the time when the foundational events of their faith occurred.… More
Full Story»

The banging and the screaming will never leave you.
The yearning in your heart for the home you once knew.
The inch from starvation, your baby's blood on your fingers.
This torturous battle in your mind still lingers.
The rubble, the orange glow of the burning
The smoke rising high in a cloud, churning.… More
There is one place where everyone stops. It's under the picture of The Creation of Adam.

by John Ewen
Cousin, I was pushed out from the shade
by what I could not tell until
I saw you coming, shimmering in the heat
as if you were afloat above the ground.
What made you come now, at this time
I asked myself; how did you know?… More
More in this category