Reflection – 2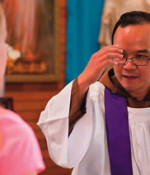 December 1, 2018
There's nothing like the prospect of visitors to get me to tidy the house. Inertia is replaced by action and the house is sparkling before I know where I am. Christmas also spurs me into action. This year, December 25 is on a Tuesday, and my preparations began a year ago on the previous Boxing Day - the Boxing Day sales are a good place to get next year's cards and wrapping paper!… More
Full Story»

The life journey on this earth is also one of spiritual growth, and we know that tension is a requirement.
Growth through the tension of opposite states is a condition of nature.
Let us think about that for a moment.
At this time of the year, we see trees bursting into leaf.… More

During a homily at daily Mass on 15 December 2014 the Pope said "Never condemn others, but if temptation strikes, then condemn yourself because there is bound to be something deserving judgement".
Pope Francis feels very strongly about people he sees as hypocritical.… More