The Cause of Fr Jean-Claude Colin Founder of the Society of Mary
The Icon: a Space for Presence
The icon is a link between the human and the divine. It provides a space for the mystical encounter between the person before it and God. It becomes a place for an appearance of Christ, the Theotokos (the 'God-bearer,' Mary) or the Saints -- provided one stands before the icon with right disposition of heart and mind. It creates a place of prayer. An icon participates in the event it depicts and is almost a re-creation of that event existentially for the believer . . . They (icons) provide joy, since icons remind us that we are deeply loved by God. Byzantine Iconography –A Brief Overview, Paul Boyce
The icon of Jean-Claude Colin, gives the one before it an entrée into the relationship between the Founder and Mary and her Son. With Jean-Claude we put ourselves in Mary's presence, and with her, in the presence of her Son. With the right disposition we can become sharers in that loving gaze, receiving the inspiration and companionship of Jean-Claude in his life of listening-obedience to the Word, spoken anew.
The Superior General of the Society of Mary at the time, Fr John Hannan SM, commissioned the icon to coincide with the renewal of Jean-Claude Colin's Cause for Beatification.
The icon was written by the John the Baptist art studio, Auckland, Aotearoa New Zealand. The studio specialises in sacred art and iconography.
The director of the studio, Michael Pervan, said the icon is steeped in Catholic theology and uses colour and shape to explain the relationship of Mary and Christ and the relationship of Mary to Fr Colin and the Church.
The writing of the icon used only natural products, including gold leaf, egg yolk, gypsum, and Italian rabbit skin glue.
Symbolism within the icon is subtle and deep. For example, Fr Colin does not yet have a halo, as he has not yet been declared a saint by the Church. He appears young and most glorious because he is now forever young. He is not wearing the glasses seen in photos of him, because he is now perfect.
Completed in 2011, the icon hangs in the chapel of the Society of Mary General House in Rome.
Prayer for the Beatification of
Fr Jean-Claude Colin
God our Father, in your servant Jean-Claude Colin you gave your people a zealous priest and religious founder dedicated to serving the Church in the spirit of Mary. We ask you for the glorification of your faithful servant in the midst of your Church and to grant us those miraculous favours which we ask through his exclusive intercession: ..........................…………………………….
This we ask through Christ our Lord. Amen.
With ecclesiastical approval
If you receive any grace through the intercession of Venerable Jean-Claude Colin, please communicate the information to:
Fr Carlo-Maria Schianchi SM,
Postulator,
Padri Maristi
Via Alessandro Poerio 63, 00152 Rome, Italy
Email: postulator@maristsm.org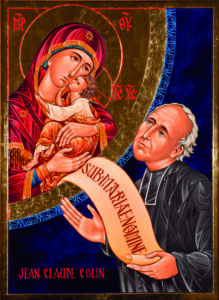 The icon can be downloaded from
https://www.jeanclaudecolin.org/resources/images-and-icon