Inspiring lives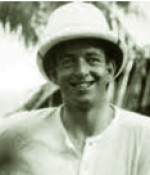 December 1, 2018
Emmet McHardy knew and understood the Bible's teachings and put his prayer into action.
Full Story»

Fr Segrief was the first NZ Catholic Chaplain to serve in World War One and saw service throughout the whole war.

St Thérèse of The Infant Jesus would almost certainly have remained unknown to the world at large had it not been for her elder sister Pauline, who, in 1895, was Prioress of the Lisieux Carmel where Thérèse lived. In passing we should also note that of Thérèse's four sisters, three of them were also at that time living with her under the same convent roof.… More

When we are troubled, and pray for help, Mary has been there before us. She understands how we are feeling, and can ask God to strengthen and help us. She lived through so many crises in her life.
She was a young girl, pregnant to an unknown (to others) person.… More
More in this category