Anniversary of the Death of the Founder of the Society of Mary
Venerable Jean-Claude Colin
15 November
In August 1874, Fr Colin's secretary, Br Jean-Marie Chognard, reported that Fr Colin was growing weaker: "he can hardly stand on his own legs any more ... However, he still drags himself to the chapel as best he can by leaning on his walking stick and my arm. Although the chapel is only a few steps from his room, it is a long way for him." [1] Fr Colin received the last sacraments on 14 November, after which he delivered a "charming little speech, then blessed the Society and all the members of the Society." [2] Then his health improved, and he made the Vow of Stability, as had been previously planned, on 18 November, with Fr Favre, the Superior General, in attendance.
By the time Fr Colin turned eighty-five on 7 August 1875, he could no longer see well enough to read a chapter of the Bible each day, as had been his life-long habit. Br Jean-Marie, whose role as secretary had expanded to be Fr Colin's constant companion and his nurse, began reading the Book of Job. Fr Colin believed that he would not live long enough to hear the whole book.
On 24 October, carried to the chapel, Jean-Claude Colin attended Mass for the last time. On 7 November, he received Holy Communion for the final time and the sacrament of Anointing on 11 November. Br Jean-Marie observed that the closer Jean-Claude came to death, the calmer he became. He died at about 7.40 am on the morning of 15 November.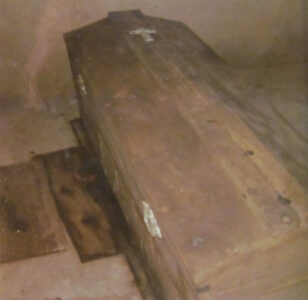 His body was laid out in priestly vestments, and Fr Eugène Colin, his nephew, noted the peaceful smile on his face. "His features, which previously had borne deep traces of suffering and old age, suddenly appeared rejuvenated and transformed." [3]
On the morning of 18 November, the body was brought from his private chapel to the main chapel for the celebration of a Requiem Mass. Then it was taken back to his private chapel, where it was sealed in an oak casket lined with lead on the following evening. "Those present observed that there was no odour." [4] A final Mass was offered on 27 November. Jean-Claude Colin was buried temporarily in the grounds at La Neylière.
As soon as the new chapel was finished, "Fr Colin's mortal remains were exhumed and permanently deposited in a vault in the chapel of Our Lady of the Seven Sorrows, on 3 August 1879." [5] In Latin, the inscription on his headstone read, "Jean-Claude Colin – Father, pray for your children."
In 1920, Fr Colin's body was again exhumed and placed in the Marist community chapel at La Neylière. The double coffin of 1879 was intact, and the remains were placed in a new lead-lined oak coffin. On it, there is a copper plate, bearing the inscription, in Latin, "Jean-Claude Colin, priest, founder of the Society of Mary, died 15 November 1875." [6] 
Text by the Editor
Photos: Fr Ron Nissen SM and the editor
[1] Taylor, Justin, Jean-Claude Colin, Reluctant Founder,  ATF Press, Adelaide, 2018, p. 1060
[2] ibid.
[3]Cause for the Beatification and Canonisation of the Servant of God Jean Claude Colin, Rome, 1909, by Fr Louis Copéré, Postulator
[4] Taylor, ibid p.1065
[5] Copéré, ibid.
[6] Echo of the Apostolic Schools of the Society of Mary Tome II No. 13, 15-01-1921, pp. 397-99.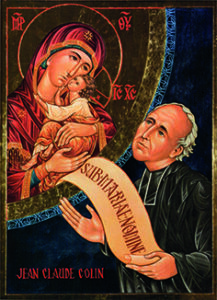 Prayer for the Beatification of
Venerable Jean-Claude Colin
God our Father, in your servant Jean-Claude Colin you gave your people a zealous priest and religious founder dedicated to serving the Church in the spirit of Mary. We ask you for the glorification of your faithful servant in the midst of your Church and to grant us those miraculous favours which we ask through his exclusive intercession: .....................[your intention]…………….
This we ask through Christ our Lord. Amen.
The icon can be downloaded from
www.jeanclaudecolin.org/resources/images-and-icon
With ecclesiastical approval
If you receive any grace through the intercession of Venerable Jean-Claude Colin, please communicate the information to:
Fr Carlo-Maria Schianchi SM,
Postulator,
Padri Maristi
Via Alessandro Poerio 63, 00152 Rome, Italy
Email: postulator@maristsm.org