Historical New Zealand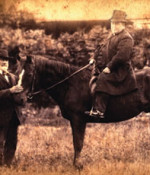 May 31, 2018
By Fr Maurice Mulcahy SM (1910-1988)
This article was recently discovered in the Marist Archives
Fr Jean-Claude Colin, founder of the Society of Mary had the task of drawing up its constitutions. A minor provision required some necessity and the higher superior's permission for a Marist to keep "a horse for riding." 
Actually, Colin lifted this idea and much more from the regulations of the Society of Jesus.… More
Full Story»

From the Golden Jubilee Speech  of Fr Delach (3)
Every house in which someone died became tapu, along with everything it contained. So when someone sick started to decline, they would be removed from the house and sheltered under a tent, a tree, or any other place, and they would die there in peace.… More

From the Golden Jubilee Speech of Fr Delach
The second part of Fr Delach's address to the students at the Institution Saint-Vincent at Senlis, Oise, which is about 40 km north of Paris, translated by Elizabeth Charlton, NZ Province Archivist.
By defeating the spell placed on bim by the tohunga, the witch doctors, Fr Delach broke their influence.… More

I was seized with terror. I started to tremble. I was hypnotised, paralysed, incapable of moving, incapable of calling for help. The serpent was approaching rapidly.
More in this category