Historical New Zealand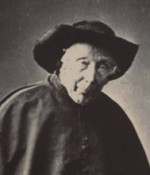 April 1, 2019
...and the Early Catholic History of Wellington (1)
In the winter of 1880, as he lay bedridden by his last illness, Father Jeremiah Purcell O'Reily OFMCap remarked wryly that "he didn't know he had so many friends until he became frail".… More
Full Story»

Fr Segrief was the first NZ Catholic Chaplain to serve in World War One and saw service throughout the whole war.

At the request of the Bishop of Arras, Monsignor Julien, Fr Adolphe Roger described events and activities within the parish of Selle during World War One. In his report, mention was made of the presence of New Zealand troops and an All Souls' Day Mass in November 1917. … More

By Fr Maurice Mulcahy SM (1910-1988)
This article was recently discovered in the Marist Archives
Fr Jean-Claude Colin, founder of the Society of Mary had the task of drawing up its constitutions. A minor provision required some necessity and the higher superior's permission for a Marist to keep "a horse for riding." 
Actually, Colin lifted this idea and much more from the regulations of the Society of Jesus.… More
More in this category