Christianity in Action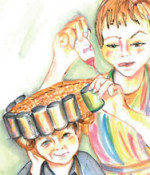 Crazy Hat Day(Comments Off

on Crazy Hat Day

)
July 1, 2018
You are the bows from which your children as living arrows are sent forth.
Full Story»

Yes, I tell you again, it is easier for a camel to pass through the eye of a needle than for a rich man to enter the kingdom of heaven Matthew 19:24.
On a recent visit to my home, my ten-year-old grandson Tommy said, "Grandma, your house is so big!" Tommy has often been in my home, and we have regular "sleepovers." I don't remember him ever commenting on the size of the house.… More

Through the Therese Programme friendship, advocacy and support is offered to families whose unborn child has been diagnosed with a physical and/or intellectual impairment or a life-limiting condition

How do I even begin to write this letter when I know how ill you are?
More in this category