Evangelisation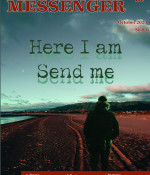 September 30, 2020
Recently, I met a person who openly declares that he is an atheist. My only question to him was, "Do you believe in goodness?" And without hesitation he answered in the positive, to which I promptly replied, "That goodness comes from someone!"… More
Full Story»

As we follow Jesus, as it were, and those associated with Him in John's Gospel, we encounter a recurring refrain, a refrain that extends an invitation to them, but also to us. The refrain is: "Come and see."
Sometimes that invitation is given in those words; sometimes it is implied; sometimes, rather, it is a failure to see or to see properly.… More

This year, on World Mission Sunday – 23 October 2016 – my hope is to reawaken in the heart of believers in New Zealand the core purpose of every Christian

Pukapuka is a small isolated island in the northern group of the Cook Islands.
I find the story of how the Faith came to this island especially moving because it involves some of our sisters who worked in Samoa early last century.… More
More in this category