Evangelisation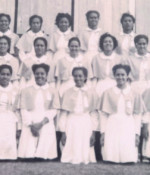 May 31, 2021
This year people in Tonga are celebrating 150 years since the arrival of the first women religious or Sisters.
Challenges to missionary endeavour
Tongan historian, Sione Latukefu writes: "Seldom has there been such rapid and effective indoctrination of a people than that achieved by Wesleyan Methodist missionaries in Tonga from the 1820s."… More
Full Story»

Recently, I met a person who openly declares that he is an atheist. My only question to him was, "Do you believe in goodness?" And without hesitation he answered in the positive, to which I promptly replied, "That goodness comes from someone!"… More

As we follow Jesus, as it were, and those associated with Him in John's Gospel, we encounter a recurring refrain, a refrain that extends an invitation to them, but also to us. The refrain is: "Come and see."
Sometimes that invitation is given in those words; sometimes it is implied; sometimes, rather, it is a failure to see or to see properly.… More

This year, on World Mission Sunday – 23 October 2016 – my hope is to reawaken in the heart of believers in New Zealand the core purpose of every Christian
More in this category