Focus Editorial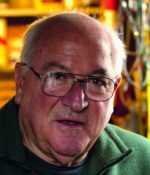 October 2, 2018
When I was a seminarian, my provincial superior Maurice Bourke told me, "There are so many angry young men around because there are so many stupid old ones." I was astounded but he was exactly right.
But what do the word old and young mean?… More
Full Story»
Motif and dynamic of the Christian Life
The Solemnity of the Transfiguration of the Lord is the occasion when God's life gloriously shone forth in the body of Jesus. In a sense, that's our goal as the baptised. And to make that challenge a more realistic goal for us, the Church punctuates her calendar with the saints.… More

Try not to get worried Try not to turn on to Problems that upset you,

Lord, Holy Spirit,
You blow like the wind in a thousand paddocks,
Inside and outside the fences,
You blow where you wish to blow.
That is the first stanza of James K Baxter's Song to the Holy Spirit which came to my mind when Fr Kevin Head
asked for a guest editorial "on the topic of the Holy Spirit." The Holy Spirit is too big and too powerful to be fenced in by any boundaries, let alone the limits of a Messenger editorial.… More
More in this category