Society of Mary Final Professions and Ordinations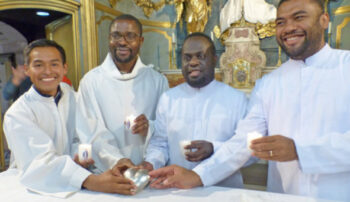 Four men took perpetual vows as members of the Society of Mary at a ceremony in Rome on 2 October 2021. They are, from left to right, Jaime Martinez Perez (Mexico), Yves Beranger Tuma (Cameroon), Cameron Mota (Papua New Guinea), and Iosefo Amuri (Fiji).  The photo was taken at the shrine of Fourvière in Lyons, France, where they had recently renewed their temporary vows after making a retreat at La Neylière. 
Fr Hayden Powick SM was ordained to the priesthood by Cardinal John Dew in Our Lady of the Bays Parish, at Our Lady of Perpetual Help Church, Richmond, on 9 October 2021, and on 23 October, in Sacred Heart Cathedral, Suva, Fr Joseph Tora SM was ordained to the priesthood by Archbishop Peter Loy Chong.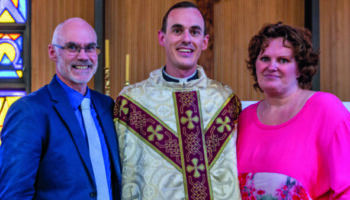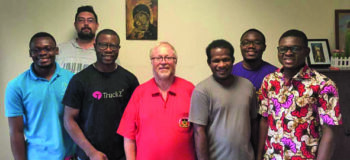 Society of Mary Theologate students, Rome, with the Rector, Fr Tony Kennedy
Left to right: Joel Sebastien Ebonto Eyango (Cameroon), Hemi Waerengaahika Ropata (NZ), Clovis Gwencho Nformenteng (Cameroon), Fr Tony Kennedy, Charles Sangul (Vanuatu), Godlove Ngwese Ndema (Cameroon), Koffi Joseph Adjkopa(Togo)
Please say a prayer for them