Catholic Life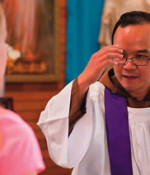 December 1, 2018
There's nothing like the prospect of visitors to get me to tidy the house. Inertia is replaced by action and the house is sparkling before I know where I am. Christmas also spurs me into action. This year, December 25 is on a Tuesday, and my preparations began a year ago on the previous Boxing Day - the Boxing Day sales are a good place to get next year's cards and wrapping paper!… More
Full Story»

God's plan is like a pulse of life beating away in my 'yes', bread-and-butter discipleship.
"There is a world of difference between listening and hearing." (G.K. Chesterton, 1874-1936. English writer, theologian, and philosopher.)
I have recently been on an 'organising' purge in my home. I recognised that there were cartons, boxes, and containers which had not been looked at in a while.… More

Mary Magdalene was a person like me. God wove his pure love into her soul when he conceived her in his likeness.
More in this category