Death and Taxes
'Tis impossible to be sure of any thing but Death and Taxes." We've all heard the saying.  Benjamin Franklin quoted it, praising the newly written American Constitution: "Our new Constitution is now established, and has an appearance that promises permanency; but in this world nothing can be said to be certain, except death and taxes."
We always – mostly - pay our taxes. We chat about taxes – often having a quiet moan about how much they are, but also worrying that the government of the day is spending them wisely. 
We are reluctant to speak of the inevitability and reality of the other certain thing, death. We use euphemisms; 'passing on' or 'passing over', 'kick the bucket', 'fall off one's perch' and so on. Some of these are humorous and demystify somewhat the idea of death. The first two can be used by media and others to avoid the final reality of death. The fact of death is a thing our modern society wants to avoid. 
This trend is reflected in the now not infrequent private burial or cremation of the deceased, often without any sort of funeral service. Even the family of faithful, life-long practicing Catholics will bury the deceased without any sort of Catholic or Christian prayer. This even against the implied wishes of the deceased.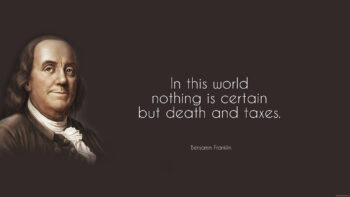 This denial of death is, perhaps, observed in the recent death of Elizabeth II and the subsequent ceremonies. The huge outpouring of heartfelt grief was certainly a recognition of her longevity and her life-long self-sacrifice. However, it also seemed for many to be  a  personal event  – a practical impossibility for the millions who mourned her. This was mourning, not for a distant public figure who most never met, let alone had a personal relationship with, but for someone near and dear. What could be behind these seemingly contradictory positions? The phenomena points to a lack of proper grieving for people's own nearest and dearest. The Archbishop of Canterbury hinted at this in his sermon at the funeral service for the late Queen in Westminster Abbey when he made remembrance of all those around the world who have suffered bereavements recently. 
Could it  also be, that confronted by the death of a loved public figure who seemed to be alive for ever, people have been confronted by the reality of their own death? That in some way they are mourning their own certain death? 
This month we Catholics celebrate All Souls day – more properly the Commemoration of the Faithful Departed. The cover of this issue shows a collection of 'calaveras' – colourfully decorated plaster skulls from Mexico used as decorations on this day, called El Día de los Muertos. Mexican, and other Latino cultures don't deny death, but rather celebrate it as part of a life well lived. 
El Día de los Muertos has its roots in the pre-European Mesoamerican cultures which took up and adapted Catholic doctrine about life after physical death taught by the missionary friars. While it is a day of sadness when remembering those who have died, there is an underlying understanding that their life has not ended; the deceased are still with us.
All Souls day, Pope Francis reminds us in the following article, is intimately linked to All Saints day. This is not just because one follows the other. With All Saints day we celebrate all of those souls who have been found worthy of being in God's presence. They are in heaven. 
On All Souls day, we celebrate all the Faithful Departed. We remember those souls who may or may not be in heaven. We pray for them, that they may attain the beatific vision. We pray that God will take them to be with him and be numbered among the Saints of heaven. 
This is one reason why we have a funeral service. The funeral is to pray for the deceased, and to pray for those left behind. The funeral rites can be an important help in coming to terms with the death of a loved one. To choose not to celebrate a funeral is to run the risk of leaving the grieving process incomplete. There is no shame in expressing sadness. In fact, not expressing grief can be damaging. A funeral service has human as well as spiritual benefits.
The reality in our contemporary society is that we can no longer rely on loved ones and others to be able to organise a Catholic funeral service. Loved and loving children, despite parents' best efforts, can drift away from belief and the practice of the faith. In mourning, and confronted by what seems to be a confusing religious ceremony and, in the public eye, many feel unable to prepare and organise a funeral.
The late Queen Elizabeth left very detailed instructions about her own funeral service. It is a good idea to do likewise. We can prepare for it. (See page 18 for a guide.) Obviously, our own funeral won't be as large or as complicated as a royal funeral! It can be, however, dignified, spiritual and healing.
There are two certainties in life, death and taxes. We can't do much about taxes. How we view death is something we can do something about.