World Mission Sunday – 23 October
I spent 20 years on mission in Latin America, specifically in Peru, Venezuela and Mexico. When I was a junior seminarian, we had frequent visits from missionaries home on furlough. I remember being enthralled by their tales of adventures in exotic, (mostly) hot, steamy climates. At that stage I'd not travelled overseas, in fact, I'd never travelled to the South Island from the North. So, I can't rule out that the romance of travel coloured my growing desire to be a 'blue water' missionary. The blue water reference is an allusion to the crossing of oceans to go on a mission. This, of course, is now done in air-conditioned comfort of a commercial airliner, while sipping a complimentary glass of Syrah. But the words still conjure up starry-eyed visions of crossing sea-spray splashed, white-capped blue ocean waves heading toward exotic coconut strewn islands.
I'm letting my imagination get away from me. From the Apostles obeying the Lord's great commission to "go out and make disciples of all nations" and St Paul's great journeys in the early days of the Faith to our present day, our Church has been missionary. 
Initially, missionary activity was mostly confined to the limits of the Roman Empire. But beginning in the late fourteenth century there was an expansion of the missionary activity of the Church. The European exploration of Africa and the later 'discovery' of the Americas opened even more ample fields for spreading the Gospel. And religious orders1 heroically travelled out to do just that. Beginning in the 16th century, the flourishing of the religious congregations1 enabled the church to tackle the evangelisation of the 'New World'.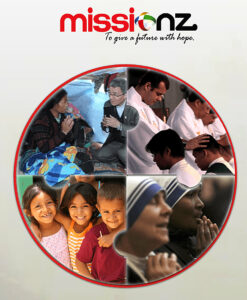 At Ocopa, in the Andes of Peru, 3,360 metres above sea level2 is the Franciscan Convent of Saint Rose. Established in 1725 it became the centre of the local Church's missionary effort. By 1880, it was the largest missionary operation in the Americas, serving more than seventy parishes and missions over a vast swath of South America. From there, hundreds of Franciscan friars set out to explore and evangelise in the mountains of the Andean region and the jungles of the  western part of the Amazon Basin. Many were never heard of again.
 A little later, exploration of the Western Pacific was the catalyst for Papal recognition of the Society of Mary. And so, we arrive at 'this little Society'. Even when I departed New Zealand's shores (on an aeroplane, glass of beer in hand) for Peru in 1988, thinking had evolved and I was encouraged to think of myself as being sent on a mission, rather than being a 'missionary'. The question being posed now for us is: what does mission look like 35 years later in 2022? 
In this issue there are articles that will help us reflect on being missionary in today's world. Pope Francis, in his message for World Mission Day, reminds us that we are all, lay, religious and priests, called to be missionary and witness to Christ. In the reflection and sharing in preparation for the Synod next year, this call to mission and ministry for all is being highlighted. Francis tells us the phrase: "to the ends of the earth", (Acts 1:8) challenges us to go beyond familiar places and situations. We are called to 'go forth' to new geographical, new social and new existential horizons, to 'borderline' places and human situations. Similarly, Fr John Larsen SM, the Marist Superior General, suggests the mission now is to bring the Gospel 'home', to the post-Christian peoples of our society. Fr John reminds us that our Marist charism invites us to stand as "hidden and unknown" with the forgotten ones who are the hidden and unknown ones. Other articles in this issue might help us to reflect on how we can do this. We have an appreciation of Fr Tony O'Connor's mission in the southern borderlands of the United States, even as he returns to New Zealand. Mission is no longer only overseas in 'underdeveloped' places. Where might our mission be? How will we know to where we are called? Fr. John tells us "Mary in the New Testament shows us the way forward." The borderlands and borderline places where we are called to mission may well be just a short walk away.
1 Traditionally, members of religious orders take solemn vows: Cistercians, Dominicans, Franciscans etc, while members of religious congregations take simple vows e.g. Marists, Brothers of La Salle, Passionists, Presentation Sisters, Daughters of Our Lady of Compassion etc.
2Mount Cook is 3,724 metres above sea level