"Life is a highway, I wanna ride it all night long…"
This popular 90's tune is by Canadian singer Tom Cochrane. The song is a metaphor comparing life to a journey on a highway. There is something in us that resonates with travel. Authors have written so many popular road-trip novels, it's a genre in itself. Travelling from place to place, with experiences and lessons learned, echoes the growth and development we undergo as we live out our lives. Life as a journey is actually an ancient Christian motif. Life is a journey, a pilgrimage, a Way, even a highway. And we are all travellers and pilgrims.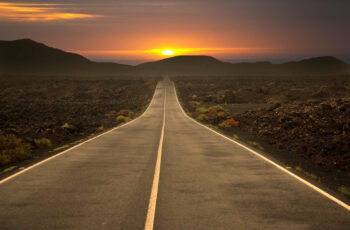 This edition of the Marist Messenger features articles about pilgrimage. In part this is because July 25th is the feast day of St James. The Camino to Santiago has become once more a major pilgrimage. Some 350,000 pilgrims a year received their certificate of pilgrimage prior to Covid shutdowns. Of course, more walked parts of the Camino or didn't ask for a 'Compostela'. While not all are 'practical' Catholics or even Christian, 98% of these self-identified as having some spiritual motive.
There are many pilgrimage destinations around the world. Rome and Jerusalem being the obvious standouts. Fatima and Lourdes quickly spring to mind. Also Tepeyac in Mexico City, where the image of Our Lady of Guadalupe receives more than 7 million visitors during just the week of her feast day. Many thousands walk hundreds of miles through Peruvian deserts and into the Andes of Northern Peru to visit El Señor Cautivo of Ayabaca each year. All of these and more reflect something central to Christian Spirituality. We are all pilgrims on our journey through life.
Another notable day in July is the 26th, the Feast of Saints Anne and Joachim, the parents of Mary and the grandparents of Jesus. The World Day for Grandparents and Elderly on the 4th Sunday of July is purposely close to their feast day. It's not too much to see a link between the three dates.
A few years ago it was popular to quote the saying "it takes a village to raise a child". The saying is attributed to popular culture in Africa. Traditional cultures value all members of the village, from the youngest to the elderly. Elders are seen as receptacles of tradition, of knowledge and of wisdom. Their knowledge is valued as much as the ability to provide food and shelter. Older people have a cherished role in child rearing. It is in western 'developed' cultures that the elderly are forgotten and 'warehoused' – at best, put into care. And while this may provide for the physical and medical needs of the elderly, it can sometimes seems like they are isolated from life.
Former U.S. Vice President, Hubert Humphrey, said the moral test of society "is how it treats those who are in the dawn of life, the children; those who are in the twilight of life, the elderly; those who are in the shadows of life, the sick, the needy and the disabled." By this standard we may be failing. However some initiatives might give hope.
A rest home in the Netherlands is experimenting with intergenerational living. It has invited young adult students to live rent-free in apartments in their buildings. In exchange, the students commit to 30 hours a month acting as 'good neighbours' interacting with the residents. Closer to home, a retirement village in Wellington built a childcare facility in the midst of their village. Their website says "a special relationship is enjoyed by having the retirement living complex onsite. Children and older adults experience planned and spontaneous interactions where they enjoy each other's company and appreciate each other's contributions within the community." We need more initiatives such as these.
We should celebrate and value our elders. This month especially, the Messenger says thank you to all our older readers, to the grandparents who raised or are raising their mokopuna (grandchildren), to those whose memories and wisdom inform our present. You are never a burden; you are a gift. We value your wisdom, your knowledge and the link that you are between our past and our future. You make us who we are. Pope Francis writes: "you are needed in order to help build, in fraternity and social friendship, the world of tomorrow in which we, together with our children and grandchildren, will live."
This day, we celebrate those elder pilgrims; those who have cared and nurtured us and our children; those who are wisdom figures for us all; those who are pathfinders. They have remained steadfast on the pilgrimage.
Life is a highway – with all its ups and downs. We journey onwards, down through the days and years. We are all pilgrims – strangers in this world on our Way to our heavenly homeland.