Reverse Osmosis Plants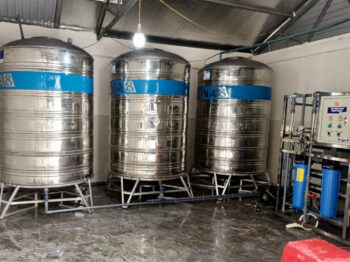 Adapted from Inform,  Christchurch Diocese Newsletter, Issue 121 -- Lent 2020
While on holiday to his home in Vietnam's Quang Binh Province, Fr Huynh found himself thinking about how to improve the water quality for his countrymen and women. He took with him some money, raised by children at Waimate's St Patrick's School, to help children and their families who are living in poverty. However, he realised there was another need he could directly help to meet.
Vietnam has a population of 100 million in an area the size of New Zealand. The country is afflicted by governmental corruption and there is little regulation of the disposal of waste water or industrial waste. This is causing many wells and rivers to be heavily polluted. As a result, many young people in the remote and poorer regions suffer from poor health.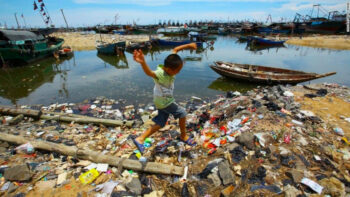 Fr Huynh has a family background in engineering. His grandfathers, father and cousin are all mechanics and he himself studied engineering in Vietnam before coming to New Zealand. Fr Huynh realised that he could build filtration plants which would supply a large number of people with clean water.
Returning to New Zealand, he began fundraising in his Timaru parish and further afield. During September 2019, Fr Huynh returned to Vietnam to visit his sick grandfather. While in Vietnam, he was able to begin constructing and installing the first filtration plant. In recognition of the support he received from his parish, the project is called the Holy Family Clean Water Project.
Fr Huynh and his family were present for the opening of the first filtration plant. Bishop Paul Martin was able to visit the filtration plant and was impressed by it.
Only a year after fundraising began, there are seven plants with 10 more planned and the possibility of several others. As Fr Huynh designs each plant, orders the parts and arranges for the assembling of the filtration plants, the construction costs are reduced to about $5,000. To buy the parts from a factory in Vietnam would cost about $12,000. The reverse osmosis plants can deliver up to 1,000 litres of pure water an hour. The water is filtered nine times before undergoing ultraviolet treatment to kill bacteria. Each plant consists of filters, a pump, three 2,000-litre tanks and associated electrical equipment and pipework. They are housed in sheds supplied by the local parishes. The parishes are also responsible for any additional equipment and for maintenance.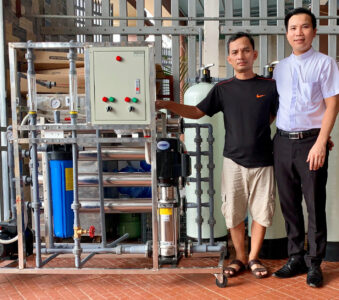 People come from surrounding areas to fill 20-litre plastic bottles with the filtered water, which is then used for drinking and cooking. The filtration plants are receiving a positive response from the people. Water is available to all and has brought people of different religions together. Caritas identifies places where filtration plants are needed and has also provided some finance. A mechanic is now trained to construct and install the plants and Fr Huynh is responsible for supervising the mechanic and raising funding for the building of more plants. A plant can be installed in a week: one day for travel, three for construction and one for commissioning. "To date, approximately $25,000 has been donated by parishioners and well-wishers. It is an ongoing project and contributions towards it are always welcome," Fr Huynh said. Further donations would be greatly appreciated.
Donations can be made to the Holy Family Clean Water Project as follows:
Account Name: Catholic Diocese of Christchurch
Account Number: 03 0802 0948733 00 Reference: Clean water project
If a donor would like a receipt please email: accounts@chch.catholic.org.nz or phone 03 366 9869 and provide your name, address and contact details.
A video is available at
youtube/zXksTR5kTT4