And Just Who is my Neighbour?
Roma Termini is the main central transport hub in Rome, and as such it tends to attract many of the city's unwanted – migrants, the homeless, and the otherwise destitute. Many of these people 'camp' in the piazzas and streets around the station. On Saturday evenings, students from the Society of Mary's Theologate go to Termini to distribute food and coffee to these people.
It was on a particularly cold February evening that I met him. We were in a stairwell entering Piazza dei Cinquecento. It was there that I first saw him. He watched us from the top of the stairs. This is not uncommon – a group of students from diverse continents praying over containers of rice casserole tends to draw some attention. I paid him no mind, and he carried on his way. We worked our way through the piazza, moving from camp to camp and person to person giving small aluminium cartons of rice and small plastic cups of Italian coffee, stopping to chat with those who wanted it and moving on quickly from those who did not. The camps, much like the people that are encamped there, vary widely. From tidy and self-contained, to disorganised and sprawling, the biggest camps carry the scent of stale white wine and urine. The people are oftentimes drunk, usually thankful, sometimes indifferent, but they are always hungry. As we moved from one site to another I
saw him again, watching us from across the piazza. I noticed this time that he had a shopping bag with him. We finished with all of the people in the piazza so we had a decision to make – did we have enough food to service the north side of the station where it is more sheltered and so there are usually more of the poor? Or was it a better idea to go to the colder, more exposed south side near the Basilica of Mary Major? Hot food on a cold night is always in high demand, so we could never have prepared enough. We judged that we should go to the less populated area, lest we run out of food and someone might have to miss out.
I saw him for a third time, on via Giovanni Giolitti, across the road from a McDonalds under the shadow of the Basilica. He was young – no more than 17 years old, well dressed though he had only a thin coat to guard against the threat of snow. He had a style of haircut popular among the youth of Rome – short on the sides with long curls atop. He was both strikingly good looking and also rather nondescript, the kind of look that will draw your attention in a crowd and then be quickly forgotten as you both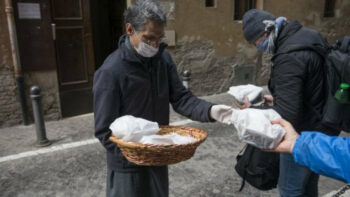 carry on with your lives. He carried himself in a slight slouch. His eyes were large and brown, with a kind of sorrow that he desperately wants to hide from you. There was another detail that I realised only later – he was alone. Roman teens tend to hunt in packs, with all of the brazenness and life of youth. But he was alone, like a deer buck that has been banished from his herd, lost and confused with nowhere else to go. I had just handed a food parcel to an old man under a large woollen hat and 3 heavy blankets, sitting on a small deck chair which kept him off the cold ground. The old man bid me a good evening, which was my cue to leave. And almost suddenly, he was there in front of me.
He took a hesitant half-step in my direction and then he seemed to think better of himself. Instinctively I took a full step forward, inclined my head so that he could hear me better and said to him quietly 'vuoi una qualcosa?' – would you like some? With his eyes to the ground, he nodded a silent yes. I reached into my bag and produced a small aluminium parcel with a plastic f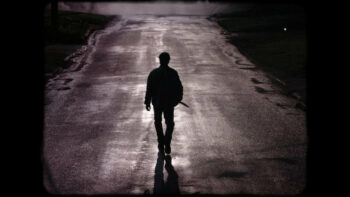 ork. 'E vuoi un caffe?' – and would you like a coffee? His head snapped up and his eyes reached past me to the brother carrying the coffee, his face full of anxiety and something approaching fear. I raised the palm of my hand toward him 'aspetta' – please wait. I turned around, and filled a plastic cup. I returned with the drink, sugar and a small stirring spoon. He received it gratefully. I realized that he no longer had the shopping bag. With an almost silent 'grazie', he turned and crossed the street. I never saw him again.
The Lord tells us what will happen at the coming of the Kingdom. He will sit in judgement, and sort humanity into goats and into sheep. To the sheep he will say "blessed are you, because you fed me, you invited me in, you clothed me and you visited me." And to the goats he will say "cursed are you because you did not" (Mt 25:31-46). Both the sheep and the goats appear to be confused – "when did we, or when did we not do this?" they ask. "It was when you did it to the least of my brothers and sisters", Jesus will reply. This seems simple enough. We carry in our minds and in our hearts the image of the poor and destitute. Of the hungry and thirsty. Of the unclothed, and of the prisoner. We know what they look like and our hearts break at the sight of them. But my friend from Roma Termini has taught me a very important lesson: we do not, in fact, know what they look like. Sometimes they are drunk and covered in urine, and sometimes they are handsome and well dressed.
Love is patience and kindness, it is generosity and humility, it is the abhorrence of evil and rejoicing in truth.
In another Gospel episode, the parable of the Good Samaritan is precipitated by a lawyer standing up to test Jesus (Lk 10:25-37). He asks Jesus what he must do to inherit eternal life. Jesus replies that the answer is in the Law – to love God, and to love neighbour. "And who is my neighbour?" he asks. Scripture tells us that the lawyer asks this question only to justify himself, but the question is pertinent: Who is my neighbour? What does he look like? What kind of haircut does he have? Is he ugly and broken, or is he young and attractive? 
Pope Francis has made it the hallmark of his pontificate to create a church for those on the margins. For the ostracised and the excluded. But in doing so, he might have accidentally created a false dichotomy. It implies that there are insiders and outsiders; that the insiders are doing OK, and that the outsiders are not. This is not accurate. Certainly, we proclaim the primacy of the poor; but to struggle is part of the human condition – we go mourning and weeping in this valley of tears after all. So, the command to do this to the least of His brothers and sisters encompasses all of humanity. For the considerate Christian, this should be at least a little terrifying: How am I to know the state of my neighbour, and if I do not show them sufficient charity, am I to be numbered amongst the goats? The answer to this is in the discourse with the lawyer. In order to inherit eternal life, all we have to do is love God and love our neighbour. The lawyer thought that the key was in identifying who qualifies as his neighbour, when in fact what is important is what qualifies as love. The lawyer should never have asked "and who is my neighbour?" rather he should have asked "and what is love?" St Paul tells us exactly: love is patience and kindness, it is generosity and humility, it is the abhorrence of evil and rejoicing in truth. Love always perseveres. Love never fails (1 Cor 13:4-8a). Jesus does not ask us to identify the least of his brothers and sisters, he only commands us to love. I can safely say that I never intended to offer charity to that young man from Termini, but perhaps it was instinct, or perhaps it was the movement of the Holy Spirit that moved me. It just never occurred to me to offer him anything; and yet there I was, watching him cross a busy street with nothing but the thin clothes on his back and the promise of a warm meal in his hands. A small, inadvertent act of love?
I never saw him again, but he has haunted me ever since. What series of terrible events led this young man to taking my charity? He was so hesitant, as if he were an unpracticed novice trying for the first time. What happened to the shopping bag he was carrying? What was the sorrow that he carried in his eyes? What was the fear that he carried in his face? He is a question-mark-shaped-ghost that lives on in my soul. But even for only a few minutes, and even if only by accident, I was able to love him, and I wonder if, when the day comes, that will be to my benefit. 
Hemi Ropata SM is a 5th Year seminarian, currently studying Theology at the Pontifical University of St Thomas Aquinas in Rome. He was raised in South Auckland, and is of Ngāti Raukawa, Ngāi Tai and Ngāpuhi heritage.
Tagged as: poverty, Social Justice
Comments are closed.