LOGOS goes to Brownsville, Texas
Maggie's Reflection
Earlier this year I and three others on the young adult programme at Logos, a Society of Mary youth development project based in Auckland, set out on a Marist immersion experience that would later become very pivotal in our journey as young Marists. After much preparation, excitement and nerves, on the 12th of February Claudia McLellan, Sione Pole, Kulu Liava'a and I set out for the U.S.A. with Denis O'Hagan SM. Our mission: to journey alongside a community of young and old in Brownsville, Texas.
Texas is the biggest state in America and Brownsville is located at the southern-most point of the state, on the border of the United States and Mexico.
We got off the plane in Brownsville to stifling heat and the welcoming face of Fr Tony O'Connor SM. It was at his house that we stayed during our time in Brownsville.
Fr Tony is the parish priest of a beautiful church community called San Felipe de Jesus. Some of these people have amazing and difficult lives and have had to deal with the hardships of being Mexicans living in the U.S. As someone who has been brought up very much involved in social justice issues, it did not surprise me that they were people who were treated unequally because of their ethnicity. However, this was the first time I had been face to face with people suffering this injustice. That was enough to reshape what I thought was, up to then, my very informed way of thinking.
All my life I have thought about what I can do to 'make this world a better place'. Going to Brownsville gave me the reality check of a lifetime. Rather than going in circles, thinking about what I can DO, I came to realise that it starts with who I can BE. I'm not too sure if that is more, or less, daunting!
As a young woman who is part of this Marist family, I believe that I am called to take up the torch that was lit two centuries ago by a group of young people who were called to live like Mary. Knowing that I, and many others like me, are just like that group of Marist founders, gives added purpose to my passion. I am thankful for the Marist experience in Brownsville as it has brought to light who I am and who I can be as a Marist.
Claudia's Reflection
A highlight of the trip was our time spent with the women who run the food bank. This is a very large food bank with a huge quantity of fruit and vegetables being donated daily. A small group of women are responsible for running the food bank, whi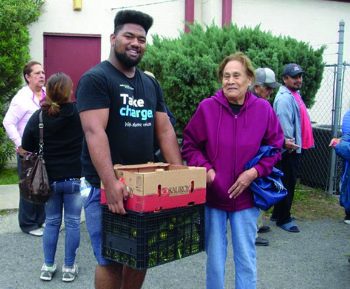 ch includes stacking boxes of food onto the ute, unloading it, then organising it and handing it out to the community on certain days. Many of these women are unemployed or undocumented. Some are employed but work very long hours outside of their service to the Church and the community. Although it was hard work handling very large boxes of fruit and vegetables, I loved working with these women and giving them the chance to have some rest as we did their hard work. It was also a beautiful thing to watch them become more comfortable around us. They laughed and danced as we brought our dance moves and joy to our work. They would spontaneously turn up on our door-step nearly every day to take us to do work, but we loved it. Their hospitality was so warm. They provided food for us and we enjoyed celebrating our hard work and community by sharing a meal together each day. These women are amazing and I was very inspired by the service they do for the very poor families in Brownsville.
It is difficult to pinpoint something I learnt from the experience because it was truly life-changing and such a spiritual experience. Firstly, I think it was realising the importance of being informed and becoming aware of what is happening in our world. I realised how truly privileged we are to live in New Zealand.
Secondly, I came to have a great appreciation for families in their struggle to provide a better life for their families. There is so much out of their control and so we should accept everyone without judgement, as we often have no idea what they have been through.
The youth that we journeyed with were more reserved than most New Zealand teenagers. We found that in general they didn't bond with each other as easily. However once we began our retreat and activities with them, they were quite supportive of each other. A few of the youth are very committed to their Church. They very much appreciated the input we gave them as leaders and singers in their Christian community.
Finally and unexpectedly, I had an indescribable, deepened connection to the Marist way. I feel such a pull and connection towards this way of living and towards growing in community, and I can't wait to continue this journey of self-growth that the Logos overseas experience has begun for me.