Hello God, it's Leo here!
In the Spiritual Exercises, St Ignatius asks us to finish each prayer period with a colloquy – talking to God as a friend. I have always found this difficult – while seeing Jesus very much as my friend, I have found it hard to have a relaxed chat with him – deference and reverence have rather got in the way.
So it was great to have a lesson from my seven year old grandson. During the school holidays he and his sister stayed with me and, as he had expressed an interest in art and architecture, I thought a trip to the beautifully restored St Mary of the Angels might go down well.
After giving them a tour of the church, explaining the Stations of the Cross, pointing out the stained glass windows, including one of St Bridget (!), and answering questions about what INRI meant on the Cross, I suggested that we might light a candle and say a prayer.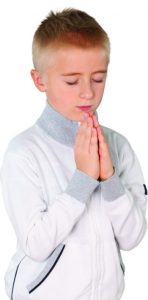 Both jumped at the idea and sat quietly absorbed in thought. Afterwards Leo said, "Do you want to know my prayer, Granny?" Obviously this was a rhetorical question as he immediately launched into what he had chosen to say: "Hello God, it's Leo here. I was wondering if Jesus was ok with you. Nice to talk to you, bye for now".
A few days later we went to Mass, with the two of them unexpectedly enthusiastic, and Leo told me that he would have another chat with God along the lines of, "Hello again God, it's Leo – I'm back. I'll tell you what's been happening since we last talked".
Why did I think a colloquy was hard? I was overthinking it, obviously. Just approach it like a child, happy to talk and know that Jesus, and St Ignatius, would be smiling.