How to be a 'Good Enough' Family
Beware of family photos which are proudly presented on social media and on Christmas cards, because they simply do not reflect the true state of anyone's family. Publicly displayed, we are shown the ideal of happy, smiling, connected families, but seldom paraded are family issues such as battles over curfews, fights about money, arguments over dress codes, disputes about meals, disagreements over what to stream, quarrels about family events, debates over chores and sibling conflicts.
Furthermore, it's always been that way with families. There are many stories of imperfect and dysfunctional families in the Bible: Adam and Eve disobey God (Genesis 3); Cain kills Abel (Genesis 4); Isaac cheats his brother Esau out of their father's blessing (Genesis 27); Joseph is sold off as a slave by his siblings (Genesis 37); David commits adultery (2 Samuel 11).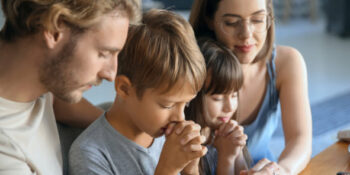 From biblical times to modern times, the reality is the same: there is no such thing as a 'perfect' family. But, there can be a 'good enough' family, one which is neither perfect nor complacent but is engaged in promoting and sustaining the well-being of its members. The 'good enough' family is a place where differences can be acknowledged, all ideas respected, conflicts resolved peacefully and where every member feels valued and, most importantly, loved. Here are four ways to demonstrate and strengthen love in our families.
1. Nourish the spiritual
One of the early written reports about Jesus reveals that he made time to cultivate his spiritual life. In the first chapter of Mark's gospel we are informed: "Very early in the morning, while it was still dark, Jesus got up, left the house and went off to a solitary place, where he prayed" (Mark 1:35, New International Version). Like Jesus, the 'good enough' family makes time to nourish the spiritual on a regular basis. This kind of family doesn't make the excuse "we don't have time." They make time, no matter how busy everyone is. It's a priority.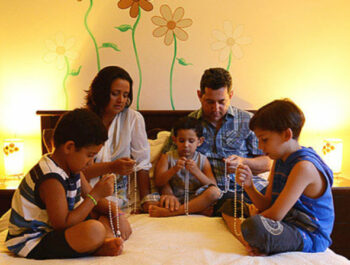 Consider the example of academy award-winning actor Denzel Washington. Over the course of his three-decade career, he has made nearly 40 movies and earned two academy awards. In spite of his hectic schedule, his devotion to family and deep faith make him unique in Hollywood. Interviewed recently, he was asked if he viewed himself as a spiritual person. Without hesitation Washington said, 'definitely,' and explained that Bible study is an important aspect of his spiritual life. "I read the Bible every day. I'm in my second pass-through now, in the Book of John. My pastor told me to start with the New Testament, so I did, maybe two years ago. Worked my way through it, then through the Old Testament. Now I'm back in the New Testament. It's better the second time around." When asked what type of books he enjoys reading, he bluntly stated: "Books? I don't have time. Except for the Bible, the number one bestseller."
Parents in the good enough family take seriously their role offering spiritual instruction for their children. They offer daily devotional times and are faithful in family church attendance. Research links many positive benefits to families who worship together. A recent Child's Trend review indicates that children who are exposed to spiritual teachings are less likely to be involved in violence, theft, and vandalism. They are also less likely to struggle with substance abuse than are their peers. This research concludes that when people attend church regularly, overall mental health and happiness increase, while stress levels decrease.
2. Cultivate forgiveness
There will be times when we feel hurt by what other family members say and do. The 'good enough' family is an ideal place to learn how to overlook the little hurts and forgive the larger ones. And, when forgiveness is experienced and learned in the context of family life, the benefits are lifelong.
Neil Farber, MD, PhD., explains: "Forgiveness boosts connectedness and kindness. When you forgive, you feel more positive toward someone who hurt you. You are also more likely to want to help and be more altruistic in general. It is not just bad people who hurt us. At some point we will all be hurt or disappointed in some way by friends and family. Holding grudges makes you less likely to develop or maintain strong relationships. Forgiveness can help repair relationships, resolve conflicts and maintain stronger, more satisfying relationships, including marriage."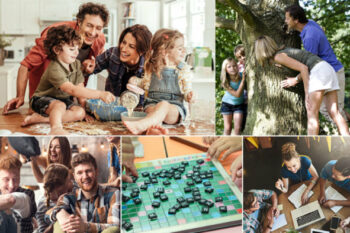 To facilitate forgiveness, follow these guidelines:
•   Pray. When we feel hurt, spend some time in prayer talking to God before talking to the person who hurt you. Author Joyce Meyer says: "When we pray, we open the door for God to come into our problems and situations and work on them."
•   Examine your motive. As your prayer concludes, take a moment to examine your heart, making certain your motive is not revenge. Keep in mind the goal is understanding and reconciliation.
•   Balance your perspective. Recall the many other ways the offending family member has been kind and helpful to you in the past. Do not permit one moment of hurt to offset many other positive interactions.
•   Put yourself in their shoes. Your anger can be softened and displaced by simply taking a few moments to see the situation from their point of view. Remind yourself that no one is immune from making the mistake of acting or speaking harshly. It's likely you've done the same thing in the past. Now, stand in the shoes of the family member who has hurt you, asking yourself: "Would I want to be forgiven? Would I want my mistake to become permanent, breaking a relationship forever?"
•   Cultivate a spirit of love. Remember that your intent is to get things worked out and to bring about reconciliation. Apply to your situation this wisdom from the Apostle Paul: "Love is patient, love is kind. It does not envy, it does not boast, it is not proud. It does not dishonour others, it is not self-seeking, it is not easily angered, it keeps no record of wrongs" (1 Corinthians 13:4-5, NIV).
•   Talk to the person. After following these steps, approach your family member in a spirit of humility and love, again following this biblical advice: "Do not use harmful words, but only helpful words, the kind that build up and provide what is needed, so that what you say will do good to those who hear you" (Ephesians 4:29).
3. Have fun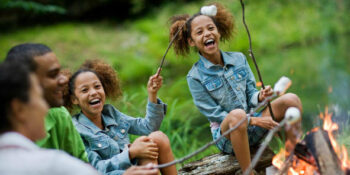 Set aside time for doing fun things as a family -- camping, playing with the children, going on picnics, riding bicycles, games nights, going for an evening walk together, etc.
One family's fun activity is volunteering at a homeless shelter twice a month, something they have been doing for nearly ten years. The Kovalik family volunteers at First Covenant Church Homeless Shelter in downtown Minneapolis, MN. First Covenant provides shelter for approximately 50 men and women per night as well as an evening hot meal prepared entirely by volunteers such as the Kovalik family. To provide the meal, the family first purchases all the ingredients, prepares the food at First Covenant kitchen, serves the hot meal, and cleans up after everyone has finished eating. This volunteer session feeds 35 to 40 people and takes around three hours, running from about 5:30 to 8:30 every night, with dinner served at 6:30, including weekends and holidays.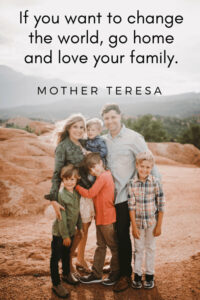 4. Be united
The father and mother are spiritual directors for their children. It is imperative that they be united in the training and discipline of their children. When children disobey, they talk rather than scold. Shouting and lecturing are avoided. They are guided by these two biblical teachings about parental discipline: "Do not exasperate your children; instead, bring them up in the training and instruction of the Lord" (Ephesians 6:4, NIV); "Do not embitter your children, or they will become discouraged" (Colossians 3:21).
Educators and child psychologists stress the importance of discipline when raising a family but they also recommend that the discipline be positive rather than harsh and negative. "Kids don't learn when they're feeling threatened," says Jane Nelsen, Ed.D., author of the Positive Discipline and a licensed marriage, family, and child counsellor. The goal of the positive discipline approach is to pilot children in the right direction while simultaneously empowering parents to understand discipline as an instructive tool, not a punitive one, teaching their children right and wrong.
Dr. Nelsen identifies these five vital benefits of positive discipline:
1. It is equally kind and firm.
2. It helps children develop a feeling of connection (belonging and significance).
3. Its effects are long-term.
4. It builds good character in children by teaching social and life skills.
5. It shows children that they are capable and can use their personal powers in constructive ways.
This type of positive parenting insists on child discipline while creating an environment where children feel safe, protected, and guided.
Even though you may, at times, feel unsuccessful at being a 'good enough' family, try to remember that a family surrounded by and raised in love, is a gift to the world.
"If you want to change the world go home and love your family," said Mother Teresa.