Resurrection in time of Coronavirus
The following is extracted from a podcast of the same name.
We're coming up on Holy Week. That might be hard to believe. This is supposed to be the pinnacle of the Christian calendar as we prepare to corporately reflect on the Passion of Christ: beginning with Palm Sunday, then Holy Thursday foot washing, Good Friday services at noon, and an Easter vigil or sunrise service. There is an emphasis on coming together as the Body of Christ to celebrate and worship the risen Christ, without which "our preaching is useless and our faith is in vain" according to the apostle Paul.
But instead of that corporate gathering, this year we're huddled in our own houses, practicing social distancing, trying to do our part to slow the spread of this external threat and flatten the curve of those infected to ease the burden on our overstretched health care system.
The Kingdom of God is under no threat from the coronavirus or the collapse of the stock market. We are resurrection people. What does that mean exactly for these days?
These last days of Lent seem like a good time to think a little more about our responsibility to our time and place and what difference Resurrection makes in the time of coronavirus.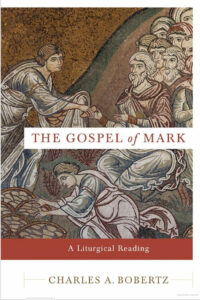 I pulled a book off the stack back on Ash Wednesday called The Gospel of Mark: A Liturgical Reading, by a Catholic scholar in Minnesota called Charles Bobertz.
He puts together a fascinating picture that helps to explain some otherwise curious features of the book. First and foremost, is a consideration of the original audience of the Gospel. Almost certainly it was written in its final form sometime soon after 70 AD when the temple in Jerusalem had been destroyed by the Romans. Christians were meeting in house churches, and it was a crucial time for this fledgling sect of Jews, as the place of Gentiles and even of women was not completely settled. 
Bobertz claims that the Gospel of Mark was written to tell the story of Jesus for that generation and show once and for all that Jesus's mission was nothing less than the full inclusion of these groups, that they might not be relegated to some secondary status, but to share in the one loaf—the Body of Christ—that was most fully symbolised in the Eucharist meal.
And, secondarily, for that audience, and the aspect that might resonate more to our time of coronavirus, was that the church was facing difficult times. Many of them would be martyred. And the point throughout the Gospel was that the resurrection life which Jesus demonstrated throughout could only come through suffering and death. And we are all "on the way," a phrase used repeatedly throughout the Gospel, on the way which points to the cross.
So, the main point I'm making here, is that we ought to have a different perspective on a pandemic like the coronavirus because we are Christians. I don't mean the kind of perspective you hear from some religious leaders who claim it is a judgment God intentionally sent on some specific group. 
What I mean is that, as people of the resurrection, we ought not be surprised by the reality of suffering and even death in this order of things. Several times throughout the Gospel, Jesus tries to explain to his disciples that he was going to suffer and die. 
They (Peter and the disciples) thought the way for their righteous cause to prevail could not possibly involve suffering and death; that's a very human way of looking at things. The reality is that the world God made is what some theologians have called 'cruciform', that is to say 'cross-shaped'. And in that kind of universe you don't win by mastering others, you serve them.
The way to victory in a cruciform universe must go through suffering and death. Because victory is not simply avoiding death. Rather, victory is resurrection to a new order of things. And there is no resurrection without death.
To his first audience Mark tells the story of Jesus in such a way to show that they are now the body of Christ, and that any suffering they are experiencing should be identified not only with the suffering and death of Christ's physical body, but also looking forward to the resurrection that comes from that suffering and death.
Lent itself seems to point toward willing sacrifice as a way of remembering that the way of Christ involves denial to self and taking up our cross.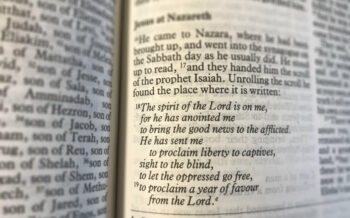 But when that kind of discipline spills over into a devaluation of life itself, we have radically misunderstood what Christ has called us to. I can't imagine Jesus ever saying, let the old people die so you can maintain your way of life and standard of living.
Remember Jesus when he read from the scroll of Isaiah at the synagogue in Nazareth? He said the prophecies were fulfilled in his coming, and those prophecies sounded very this-worldly: bringing good news to the poor, proclaiming release to the captives, recovery of sight to the blind, freedom to the oppressed. As followers of Christ—as the Body of Christ—we are called to maintain and even further this mission.
That brings us back to the question of why God would set things up this way? Especially in the time of coronavirus.
James said, "Consider it pure joy, my brothers and sisters, whenever you face trials of many kinds, because you know that the testing of your faith produces perseverance. Let perseverance finish its work so that you may be mature and complete, not lacking anything."
Times of adversity can lead to us becoming mature and complete. It seems that it is this life with its trials, and suffering, and death—along with God's grace, Christ's redemption, and the power of the Holy Spirit—that can prepare us to be the Bride of Christ in eternity.
We wind down this year's very strange season of Lent not seeking out suffering and death, but realising that is the way of Christ and the shape of this cruciform world. I'm afraid our suffering from coronavirus is not going to end on Resurrection Sunday this Easter. We have more challenging days ahead. Perhaps not unlike the Christians in the first century.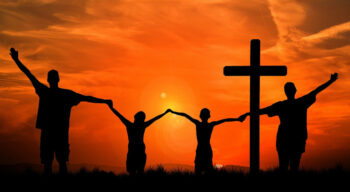 In his book, Bobertz said those first Christians Mark was writing to could understand the suffering and even death of their own days as part of the Jesus story.
Can we identify with the Jesus story in the days we find ourselves in—the time of coronavirus? Will we let these days bring out the best in us as we love our neighbours and even our enemies? Can we persevere in these trials, considering them to be pure joy—which, admittedly, is not the same as fun?
May we serve the purpose of God in our generation, boldly enacting the kingdom wherever we find ourselves.
May God preserve us as we continue on the way, identifying with Christ in our suffering.
And may we become mature and complete, not lacking anything as we prepare for our bridegroom on the other side of suffering and death, in the resurrection to eternal life.
Jim Stump is Vice President of Programs at BioLogos. He oversees the editorial team, participates in strategic planning, and hosts the podcast, 'Language of God'. He has a PhD in philosophy and was formerly a professor and academic administrator.
BioLogos explores God's Word and God's World to inspire authentic faith for today.
Their vision is faith and science working hand in hand. See biologos.org