Adoration of the Magi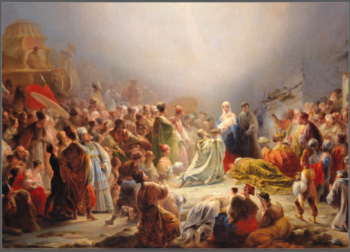 Domingos António de Sequeira, also known as Domingos Sequeira, was born in Lisbon, Portugal, in 1768. He died in Rome in 1837. He painted Adoration of the Magi in 1828.
Rather than being sheltered in a stable, the Holy Family appears to be standing on a street or road. The star of Bethlehem bathes Jesus, Mary and Joseph in a radiant glow, which spreads to some of the characters surrounding them, including the wise men.
Matthew 2:1-12 indicates that the wise men found the Christ-child some time after his birth. The Gospels do not tell us how many magi there were, although they do tell us that they brought three expensive gifts of gold, frankincense and myrrh. There may have been many more wise men than three, and the painter suggests this possibility. Among a crowd of about one hundred and fifty, it is difficult to count the number of figures in the painting which look as though they might fit the category of 'magi.'
Of the three who presented the gifts, two – Melchior and Balthazar – hold up jewelled boxes containing gold and myrrh. The third, Caspar, lies face down while a servant stands behind him, holding the gift of frankincense.
To the left, a small group of distinguished-looking figures, perhaps astronomers, seem to be conferring about the light from above. To their right, as you look at the painting, a helmeted soldier is pushing some young men out of the way. To Balthazar's right, a man is swinging a thurible. Some of the figures are kneeling in adoration, and a few are prostrate.
As well as a host of people, there are horses, camels and an elephant. In addition, there are many women and children. Maybe they have ventured out in curiosity to see what all the fuss is about.
The viewer's gaze is guided by the open V-shape to the baby Jesus, the centre of attention, who pays no attention at all to what is happening around him. Instead, he fixes his attentive gaze on the star.