A Christmas Story … Emmanuel — God-With-Us
In 1994 in Moscow two missionaries told the story of Christmas to a group of children in an orphanage. They had been abused and abandoned, and they had never before heard the story that we have just heard again in our readings. The children were entranced, some of them sitting on the edges of their stools, leaning forward to take in every word.
To complete the story, each child was given some pieces of cardboard to make a manger, a piece of yellow paper to be torn into strips and placed in the manger as straw and a piece of felt cut out in the shape of a doll to be the baby Jesus.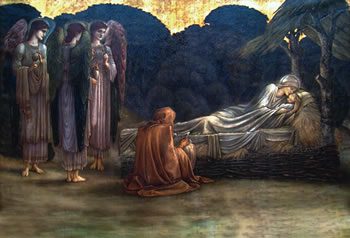 One of the missionaries noticed that Yuri, who seemed to be about 6 years old had two babies in his manger. When asked about this, Yuri began to repeat the story of our Lord's birth. He told the story perfectly until he came to the part where Mary placed the baby Jesus in the manger.
He said, "And when Mary laid the baby in the manger, Jesus looked at me and asked if I had a place to stay. I told him I have no Dad and no Mum, so I don't have a place to stay. Then Jesus told me I could stay with him. But I told him I couldn't because I did not have a gift to give him like everybody else did.
But I wanted to stay with Jesus so much. I thought about what I could give him as a gift. And I asked Jesus, 'If I keep you warm, will that be a good enough gift?' And Jesus told me, 'If you keep me warm that will be the best gift anybody ever gave me.' So, I got into the manger and then Jesus looked at me and he told me that I could stay with him -- for always."
Yuri's eyes were full of tears that rolled down his cheeks as he finished his story. He put his hands over his face, his head dropped to the table and his shoulders shook as he sobbed and sobbed. The small orphan had found someone at last who would never abandon him nor abuse him, someone who would stay with him – for always.
And so have we found someone who stays with us -- for ever and always. And that is what we celebrate at Christmas. God is one of us, he is with us, and he is our friend.   
Adapted by the Editor