A Very Modern Model of a Marist Seminarian!
Formation for the modern Marist seminarian has changed drastically in recent years, with most of their formation now taking place overseas. Ben D'souza gives an insight into his formation experience.
When I was first told that I would be going to Rome to study theology, it was one of those moments when I regretted taking the vow of obedience! The thought of studying in another country, in another language and in an international community was something that was just too farfetched for me. Away from my family, friends and outside my country I knew I would be lonely and bored. But I was wrong.
My first three months in Rome were spent learning Italian. This was an intensive programme; 5 days a week and 4 hours each morning with the afternoon and evening spent either doing homework or trying to get to know Rome a bit. I also had a pastoral placement with the Missionaries of Charity sisters. They have a large house where they look after the poor and homeless. Most of them are migrants who have lost their jobs or are too old to work. We helped clean up after meals as well as clean their rooms and toilets, then concluded with Mass with the patients and sisters.
When the semester started, I was moved to a different pastoral placement. This was to a centre run by Caritas Italy that looks after men and women with Aids. The main component of this pastoral activity is playing and singing during Mass and talking to the patients. As I had a very basic level of Italian, it was a good opportunity to grow in my listening and observational skills. This all came in handy last summer when I spent three months in Ranong, Thailand.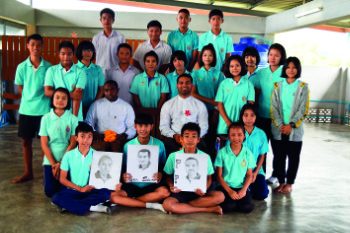 We were told that we would be teaching at the Marist Mission Centre as well as helping the health team, who work mainly with Aids patients. I was looking forward to teaching, having trained as a teacher before joining the seminary but I also knew that teaching in a foreign country would have its challenges, with different education standards, curriculum and pedagogies. However, I soon realised that the main challenge was the language. Teaching English to students who have little or no English was a challenge as it demanded a lot of patience, both from me and the students. It was frustrating at times, they wanted to learn and couldn't. I wanted to teach but couldn't. However, at the same time there were some "moments to remember", usually when I or one of the students made a mistake and the class had a good laugh. This strengthened our relationship as we were slowly letting our guard down and were able to be ourselves. But the most important thing was building relationships and the best way was informally outside the classroom. This meant playing volleyball and badminton with the students. On the court everyone was equal, and we built a great rapport. It really helped to get rid of the initial shyness and encouraged them to speak freely both inside and outside the classroom.
Working with the health team had its own set of challenges. Each patient had a different story of how they ended up in Ranong and how they met the Marists. Some were more heart-wrenching than others but they all were victims of social and political injustice and had no means of changing their circumstances without outside help. Some needed to get their documents in order before they could be helped by the local health system, while others needed extra health checks, not covered by the current system. Others just needed a translator to communicate with the medical staff.
Ranong would have to be the youngest Marist community that I have lived in to date. Everyone in the community was under 50, including the superior and director of the mission. It was a joyful and energetic community, strengthened by the Mass, prayer and community time together each day.
This experience helped to put my studies in perspective and I was more focused this year as I had a context to which I could apply what I was learning.
After almost two years here I can say that I am happy. The beautiful churches, the great weather and the international character of the eternal city have all grown on me. My initial fear of studying in Rome is now gone. Living here is now something that I look forward to each day. I study at the Angelicum University run by Dominican priests and nuns from all over the world with an even more diverse group of students. The friendly environment as well as the positive attitudes of the staff and the students, makes it feel more like a medium-sized college in New Zealand, especially since I study in English. With intense studies, a busy formation community and my pastoral, I can honestly say I have not been bored. I also picked up a new hobby, rooftop gardening! As unexciting as that may sound, it is something that helps me relax and keeps me grounded while living on the third floor. A highlight of life in Rome are the mini pilgrimages to various nearby towns in the inter-semester period. It is such a blessing to be able to visit and pray at the tombs of the saints, and walk where they walked, as well as learn a bit more about the history of Italy.
Is it hard and challenging living in Rome, so far from family and friends? Yes! But at the same time it is a happy and deeply spiritual place that I can call a home away from home. 
The cover is a photo taken of The Casa di Maria, Rome, Marist international formation community.