Fr Jean- Claude Colin in Rome (3)
The Third Visit: July-August 1846
In June 1846, Fr Colin heard that Propaganda Fide had added Wallis, Futuna and Tonga to Bishop Pompallier's responsibilities. Taken aback by this turn of events, Fr Colin wanted to speak directly with authorities in Rome about what was going on, and about other issues to do with the mission in Oceania. In mid-July, Fr Colin was visiting La Seyne sur Mer, where the Marists had taken charge of a college, and it seems that he took it into his head quite suddenly to go to Rome. He became ill in Rome; by 27 August, he was back in Lyon.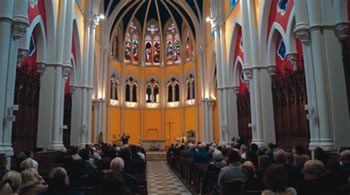 The Fourth Visit: December 1846-June 1847
On this visit, Fr Colin was accompanied by Fr Antoine Dubreul, who at that time had been working in Sydney as the procurator for the missions. Fr Dubreul took sick, returned to France, and his place was taken by Fr Victor Poupinel. They stayed at 39 Piazza d'Ara Coeli, in a boarding house for visitors to Rome. In 1850, Fr Dubreul returned to the missions, where he died in Samoa in 1867.
Since Fr Colin's visit to Rome four years earlier, Society of Mary membership had doubled, to 200 brothers, seminarians and priests.
The main issue which Fr Colin wanted to address on this visit was the Oceania Mission, which had developed a great deal since the first group of missionaries left Le Havre on Christmas Eve in 1836.
The Oceania Company
One important development promoted by Fr Colin was the Oceania Company. Its purpose was to provide ships to transport supplies and missionary personnel from Europe to the mission fields. On their return trips to Europe the ships carried trade goods from the Pacific.
Among the 1,300 shareholders in the Oceania Company were Jesuits, Franciscans, the Congregation of the Sacred Hearts of Jesus and Mary (Picpus Fathers), Dominicans, Lazarists and the Paris Missionary Society, as well as 33 bishops, 20 archbishops, 15 cardinals, and Pope Pius IX!
Problems in New Zealand
As leader of the mission in Western Oceania, Bishop Pompallier saw it as his right to censor letters written by the missionaries. When the bishop was away in April 1840, some of the Marists in New Zealand wrote to Fr Colin about their desperate situation, living in acute poverty, and about the difficulties of their relationship with the bishop.
Fr Colin received a letter from Bishop Pompallier in October of the same year. The bishop said that the Superior General was the main obstacle to success in the mission, because, the bishop suspected, he had promoted a conspiracy with the missionaries against their bishop. The relationship between Fr Colin and Bishop Pompallier was disintegrating, and after 1842, Fr Colin sent no more Marists to New Zealand.
Decisions in Rome
Bishop Pompallier and Fr Colin each wrote reports on the mission for Cardinal Giacomo Fransoni who was in charge at Propaganda Fide. As well, the cardinal had copies of some of the letters that missionaries had written to Fr Colin. After discussions, the Vicariate of Western Oceania was divided into four areas: New Zealand, Central Oceania, Melanesia, and Micronesia.
In New Zealand, Jean-Baptiste Pompallier would be Vicar Apostolic and Philippe Viard would be his auxiliary; Central Oceania would have Pierre Bataillon as Vicar Apostolic with Guillaume Douarre as auxiliary; and in Melanesia, Jean-Baptiste Epalle would be Vicar Apostolic with Georges Collomb as auxiliary. Micronesia was not in the care of the Marists.
On 28 May 1847, in an effort to solve the problem between Bishop Pompallier and the Marists, Propaganda decided to divide New Zealand into two vicariates. Pompallier would be in charge in Auckland and would have to find his own priests; and Bishop Viard and the Marists would minister in Wellington.
On the morning of 15 June, Fr Colin had an audience with the Pope Pius IX. There was to be a meeting with Bishop Pompallier and Cardinals Lambruschini and Fransoni in the afternoon, but Fr Colin felt too unwell to attend. The main reason for his non-attendance, though, was likely to have been his reluctance to speak ill of the bishop in the bishop's presence. The bishop was deeply offended that Fr Colin did not turn up.
Fr Colin was disappointed that this visit to Rome did little to resolve the difficulties in the Oceania mission. What's more, the decision to create two dioceses in New Zealand would not be confirmed for another year and would not take effect until 1850.
The Fifth Visit: 23 June – 22 August 1854
Fr Jean-Claude Colin's final visit to Rome followed the acceptance of his resignation as Superior General at the General Chapter in 1854. Since his previous visit, the Society of Mary had grown spectacularly:
Pastoral ministries now included preaching missions in parishes, conducting retreats, teaching Christian doctrine, prison visiting, military chaplaincy, social work, spiritual direction for religious communities and ministry in centres of pilgrimage.
Five schools had been established, in which there were 520 students in total, taught by 73 priests – an average of one priest for every 7 pupils; and the Society of Mary also worked in three major seminaries and one minor seminary.
Since 1836 and up until 1849, 74 priests, 17 coadjutor brothers, 26 Little Brothers of Mary (Champagnat Brothers), 3 laymen and 1 laywoman (Francoise Perroton, 'the one who gave the initial impulse' for the foundation of the Missionary Sisters of the Society of Mary) set out as missionaries to Oceania; a total of 121 people.
Fr Colin's successor as Superior General, Fr Julien Favre, had asked Fr Colin to make this journey. One of the aims was to seek approval for a new sector of the Society, "The Marist Fathers of the Blessed Sacrament." Because he realised that separating into two groups would split the Society, Fr Colin gave up the idea of a Eucharistic branch.
When he returned from Rome, Fr Colin retired to La Neyliere. He lived there for 21 years and died in November 1875.  
Sources:
Fr Alois Greiler SM, Jean-Claude Colin, Descriptive Chronology of his Life, Rome, 2014
Fr Craig Larkin SM, Jean-Claude Colin, Rome, A Superior General at Work, Padri Maristi, 2014
Wikipedia – Cardinals Giacomo Fransoni and Luigi Lambuschini