Marist Profiles
Always Your Brother, Joachim
It's all too easy to look back in our history to praise and celebrate men like Servant, Petitjean, Garin and Ginaty. First, they are not here to tell us off. Secondly, the small pebbles which were their foibles and annoying habits have been swallowed up in the cathedrals of their lives. Thirdly, the Church and civic cultures in which they fought their battles seem so far removed from our times and troubles.
Often then we need to turn our gaze from the past to see that we have lived with giants, some of whom have not yet passed on. One who has died was Redmond Leen, whom most of us knew as Brother Joachim. Now, seventeen years after his death, we can see that he was one of the early-practising conservationists and ecologist farmers. On land that was once swamp and regenerating bush he produced crops of chou moellier and barley, alternating with pasture, to fatten up lambs and cattle. The productivity and richness of the Highden farm was borne out of a love and respect for the land bred in Joachim from his youth in mid Otago.
Deep roots
From his earliest days in his farming family Joachim lived with simplicity and hard work. From the time he was old enough he would leave on his bicycle to connect with the train that took him to St Kevin's in Oamaru, returning at nightfall. By age sixteen he was convinced that he wanted to become a farmer, a brother, and a missionary. This was hard news for his
mother, then expecting another baby; this came on top of having to give up their farm as the Great Depression began to bite in the early 1930s. So he stayed another three months working on another farm, saving all he could for his new little sister. When he left Dunedin he needed the help of the St Vincent de Paul society to cover clothes and travel expenses, arriving at Highden wearing the same shorts that he used to go to school in.
The simplicity and humility that marked his life was never dented .
That close-knit loving family provided him with a sense of community that was never to leave him, and he created loving communities wherever he worked. He always kept in close contact with his brothers and sisters. When he died unexpectedly from a ruptured aorta on a visit to Wellington, he was surrounded by his religious family as well as his sisters Pat and Eileen, having previously spoken by phone with his other sister, Theresa. As death drew near he gave thanks that soon he would see his mum and dad once again.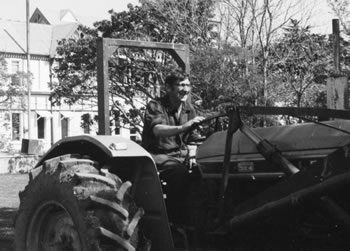 A life that blooms
The simplicity and humility that marked his life was never dented, even when as a remarkably successful farmer, he often hosted visiting students and lecturers from Massey University to see how he managed the Highden farm so adeptly. Joachim never lost sight of his early years of struggle at school, aggravated by defective eyesight, something discovered only when he started working on the farm at Highden. Never burdened with any sense of his own status or importance, he instead welcomed all that life brought him with great gusts of laughter, loving the banter that came from light-hearted but meaty debates.
Out of this simplicity and humility came a great readiness to learn and to adapt. Always seeking to get the latest information from farm advisers, university staff and horticulturists, he developed a canny knack of anticipating new trends and adapting to changing conditions. After 45 years on the farm he took on, with immense enjoyment, a six month renewal at Baulkham Hills in Sydney, the sole male in a bevy of religious women who doted on him.
He lived richly but also gave much in return. Many commented on his impact on generations of Marist novices, particularly young brothers, who gained so much of their formation at Highden. His quiet words of wisdom, advice and encouragement also supported many a priest and superior. Though never pushy or aggressive, he presented his love and understanding of the Marist way with such passion that Brother Kevin Foot, who was his mentor at Highden from 1945 until 1958, commented in a letter to Joachim's parents that 'he could sell anything.' He made no secret of how deeply he loved living in
community. His final 5-6 years, when he lived in the Fielding community, were a particularly joyous time for him, learning to cook special meals and treats, acting as the 'anchor man' while the others were scattered about on their various tasks.
What's in a name?
Whoever chose the religious name of Joachim for the young Redmond made a prophetic call. We know little of Mary's father, but as we come to see the depth of courage, generosity and wisdom that marked the young woman of Nazareth, we can be sure that we are seeing so much of her father shining out of her. Joachim had a great devotion to Mary and the Eucharist. His was a practical spirituality – not showy, not militant – but extending to every aspect of his life: care, sensitivity and love of the land, flowing into love of life and community. Joachim typified the Marist charism, a profile that John Claude Colin would instantly have recognised and rejoiced to behold. This quiet giant enshrined all that is best in the title of Marist.