Nau Mai – Welcome
As part of my formation for priestly ordination I spent a year involved in pastoral work with the Marist community of St. Mary's Whanganui. The community had responsibility for the parish of St. Mary's and there was an active outreach to the pastoral care and support of the Māori community. One of my responsibilities was a Communion round – this involved the taking of the Blessed Sacrament to those who were unable to attend a parish Mass. The reasons varied; age, infirmity, physical distance etc.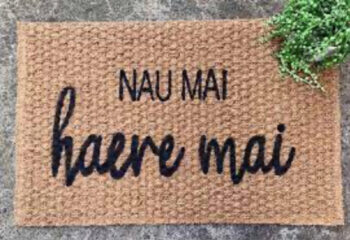 One of the persons I visited with regularity was a Māori kuia (a woman of age – in this instance considerable age). We would greet each other with familiarity. 
"Tēnā koe Auntie,"
"Tēnā koe e tama"
"Pēhea koe?"
"Kei te pai!" or on occasion, "Kei te makariri ahau!" (I have a cold)
Then I would take from my pouch a small white cloth and lay it on the table near Auntie's chair, between two candles already lit for my arrival. I would place the pyx carrying the Host on the cloth and open its lid.
Together we would pray: E whāka ana ahau ki te Atua kaha rawa ( the Confiteor), E to mātou Matua i te rangi, (The Our Father), and E te Reme a te Atua (The Lamb of God). When it came to my offering her Communion, I would say to her, "Auntie, ko te tinana o Hehu Karaiti" (The Body of Christ), and she would reply, "Nau Mai".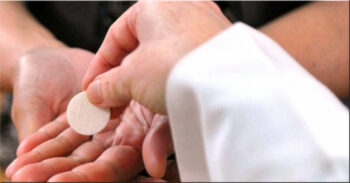 Here is the beautiful part of this story: almost invariably when persons are offered the Body of Christ their response is Amen, the translation of which into the Māori language is Āmene, but no, Auntie would reply, "Nau mai" which has the meaning of 'welcome' and 'come'. In conversation with Auntie she explained, "Amen, or Āmene always sounds like a full stop! We pray the word at the end of a prayer, or a hymn. I don't want His presence to stop, rather I want it to begin, to carry on – so come, welcome, stay."
Persons who may have experienced a pōwhiri (welcome) onto a marae (meeting-ground) may well have heard the kaikaranga (woman, or women) who call the manuhiri (visitors) onto the marae, exclaim " Nau mai, piki mai, haere mai!" It is an occasion of greeting and welcome.
When next you are presented with the Body of Christ, may you respond "Nau mai!"