Pope St John XXIII – Mystic Pope
Part 1 of 2
My guiding principles remain the same:
humility in everything, especially in my
speech, union with God and the will of God, and not my own, in all I do.
Pope St John XXIII
• In the days immediately after being elected Pope, John XXIII received a letter from Bruno, a twelve-year-old boy. "My dear Pope: I am undecided. I want to be a policeman or a pope. What do you think?" The new pontiff replied promptly saying: "My little Bruno. If you want my opinion, learn how to be a policeman....Anybody can be a pope; the proof of this is that I have become one. If you ever should be in Rome, come to see me. I would be glad to talk all of this over with you."
• During the tense days of the Cuban missile crisis in 1962, American Journalist Norman Cousins acted as an emissary, hand delivering messages between John Kennedy, Nikita Krushchev and Pope John XXIII. As Cousins sat in Pope John's study to report on his encounter with Krushchev, he recalls how the Pope, whom he had never met, went out of his way to put Cousins at ease: "We have very much to talk about," the Pope said. "Just remember, I am an ordinary man; I have two eyes, a nose – a very large nose … You must feel completely relaxed. We will talk man to man."
Those two vignettes convey the warmth, kindness and humility which consistently characterised Pope John XXIII, making him one of the most admired and loved popes by both Catholics and those of other faith traditions.
The man who would become 'Good Pope John' was born Angelo Giuseppe Roncalli on 25 November 1881 in a tiny village in the province of Bergamo, Italy. His parents were tenant farmers.
As a child, Angelo lived in an atmosphere of faith which instilled in him a deep and profound sense of spirituality. In the household where he lived with his large extended family, the faith was practiced and lived out daily. They attended Mass each morning and recited prayers each evening after dinner. This was vital spiritual formation for young Angelo.
In 1893, when he was twelve, Angelo took an entrance exam in which he placed third. This allowed him entry into a 'seminary,' a Catholic school which gave him a high school education. By the time he was a young teenager, his mind was entirely focussed on the spiritual life and service to the church as a priest. In fact, in his fourteenth year he began to keep a journal which he maintained for the next sixty-seven years of his life. Published as Journal of a Soul, it is one of the finest modern spiritual autobiographies ever published.
The first entry in the journal begins with a listing of the spiritual practices in which he wanted to engage. His first priority was to "choose a spiritual director from among the most exemplary, prudent and learned, in whom you may have full trust...and complete confidence."
In the journal he describes what he wanted to do daily, weekly, monthly and yearly. Anyone seeking to grow spiritually would do well to follow young Angelo's blueprint. Some examples from his journal include:
Daily:
•   devote at least a quarter of an hour to prayer upon waking up;
•   devote a quarter hour to spiritual reading;
•    before dinner make an examination concerning ways to rid yourself of vices or failings, replacing them with virtues;
•    read carefully and thoughtfully a whole chapter from The Imitation of Christ by Thomas a Kempis;
Weekly:
•   Confession;
•   Fast on Friday and Saturday;
•   On those days devote an extra quarter of an hour to prayer or spiritual reading, if possible, in the quiet of some church;
•   meet with the spiritual director for accountability.
Monthly:
•   Ask one of the "most exemplary and zealous" spiritual friends to observe your behaviour and candidly but charitably identify any faults;
•   Confer with the spiritual director about faults identified and the best way to correct them.
Yearly:
•    Go on retreat to do the spiritual exercises of Ignatius Loyola;
•    before going on a yearly vacation, consult with the spiritual director for suggestions to use the time for spiritual profit.
Continuing his theological education, Roncalli was ordained as a priest in August 1904 and assigned as secretary to the new bishop of Bergamo. This appointment proved to be deeply formative for the young priest, as the Bishop was a spiritual visionary, deeply concerned about the poor and supporting social reforms to improve their condition.
When World War I erupted, Roncalli enlisted in the Italian army, serving in the medical corps and as a chaplain.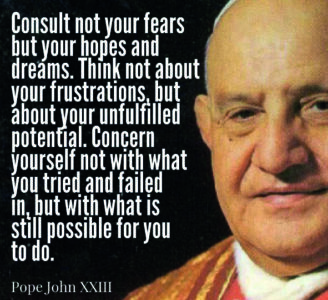 Because of Balkan tensions, Pope Pius XI established Vatican diplomatic relations with Bulgaria, asking Roncalli to be his representative (Apostolic Delegate) to Bulgaria. To emphasise the importance of his appointment, Pope Pius XI made Roncalli a bishop in 1925. All of this surprised Roncalli. In his journal he wrote: "I have not sought or desired this new ministry: the Lord has chosen me ... so it will be for him to cover up my failings and supply my insufficiencies ... This comforts me and gives me tranquility and confidence."
Though he was now becoming an ecclesiastical official of considerable importance, Roncalli expressed his desire to remain spiritually focussed and grounded. Shortly after accepting the appointment, he wrote in his journal: "I want to be all and wholly for God, penetrated with his light, shining with love for God and the souls of all ... In my new state, my life of prayer must take on a new aspect."
This diplomatic assignment was the first of several which would last three decades for Roncalli. After nine years in Bulgaria, Roncalli was appointed Apostolic Delegate to Turkey and Greece (1935).
In this role, Roncalli was instrumental in saving thousands of Jewish lives by launching 'Operation Baptism.'
In early 1944, American Jewish leader Ira Hirschmann requested an interview with Roncalli in Turkey. Hirschmann came prepared with statistics and eye-witness accounts of the Jewish plight in Hungary, pleading with Roncalli to assist Jews in that country. After listening carefully, Roncalli proposed 'Operation Baptism,' explaining that he knew that some nuns in Budapest had given baptismal certificates to Jews and that the Nazis recognised them, leaving the holders alone. Roncalli told Hirschmann he was prepared to make available as many baptismal certificates as were necessary, adding that he had no interest in whether any Jews actually attended mass or, when the war ended, remained in the Church. His only concern was with the saving of lives.
An exuberant and joyful Hirschmann returned to Washington saying, "The Catholic hierarchy, which enjoys a large influence in Hungary, took unusual spontaneous measures to rescue Jewish citizens wherever possible...(I refer) to the baptism of thousands of Hungarian Jews in air raid shelters." Of course, Hirschmann was discreet and never revealed Roncalli as the source of those baptismal certificates.
Following the liberation of France in 1944, Roncalli was named Vatican representative to that country and in 1953, Pope Pius XII made Roncalli a Cardinal and Patriarch of Venice. It was an appropriate appointment for a priest who served arduously and loyally for many decades. Roncalli was in his seventy-second year and noted in his journal, "I am beginning my direct ministry at an age – seventy two years – when others end theirs .... In the few years I have still to live, I want to be a holy pastor . . . Sometimes the thought of the short time left to me tempts me to slacken my efforts. But with God's help I will not give in. I neither fear to die nor refuse to live." 
Believing that the position as Cardinal of Venice would be his final service to the church, no one was more surprised than Roncalli when he was elected Pope five years later in October, 1958. In fact, he even arrived at the Vatican for the consistory having purchased a return train ticket to Venice.