Mission Sunday 2021 in the Mind of Pope Francis
My baptism has given me the privilege of participating in the Missio Dei (the Mission of God). Mission Sunday is celebrated yearly in October. For many, it is just the Sunday to collect money for the missions. Let us not forget that it is primarily the special day when one should especially celebrate one's Christian calling to be a missionary. It is a day when we reflect, pray, give thanks to God, and yes, be generous to understand better what it means to be a missionary disciple today.

And this year, Pope Francis, who is the principal patron of the Pontifical Mission Societies (MISSIO), takes his cue from the Acts of the Apostles. "For we cannot keep from speaking about what we have seen and heard" (Acts 4:20).
While the Covid-19 pandemic still weighs heavily in many parts of the world, including Europe, Pope Francis, in March 2021, made an historic visit to the land of Abraham (Iraq) to express a message of hope and reconciliation. He went to bring support to the remaining Christian communities there, among the oldest in the world. It was a risky trip, but his message was of peace.
As reported, the other message he wanted to deliver, and of equally great importance, was to show the futility, insanity, and sheer evil of violent conflict between religions. Pope Francis demonstrated the power of symbolic action, exemplifying the call attributed to St Francis of Assisi, "Preach the Gospel at all times. And when necessary, use words."
The picture that declared an act more audible than words was captured when Pope Francis visited and held the hands of Iraq's most prominent Shia religious authority, Grand Ayatollah Ali as-Sistani. Sistani is a critic of the war-mongering messages that continue to split the two Muslim communities of Shi'ites and Sunnis apart. A leading publication in England reported that for Pope Francis, "violence in the name of religion is blasphemy; fraternity was stronger than fratricide."
This Mission Sunday 2021, MISSIO-NZ wants to share this picture of Pope Francis, the image of a Catholic Senior Leader who has a missionary heart, mind, and practice. Since the beginning of his pontificate, he
has summoned the Faithful to be missionary people whose attention should focus on its service to the world. A missionary Church is ever ancient and ever new when it is a Church that goes forth. 
That way, the Church will always be relevant – "For we cannot keep from speaking about what we have seen and heard."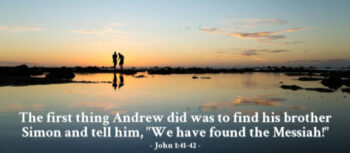 The experience of the power of God's love and the recognition of his fatherly presence in one's personal and community life is a fire in one's bones. Such a remarkable experience enkindles one to express it creatively in a way that engages others to believe, too. Jesus' first disciples even remembered the very moment it happened (John 1:39). And this experience can only be completed by the act of sharing the event (1 John 1:4).
This is the heart of Pope Francis' Mission Sunday 2021 Message: "We cannot but speak about what we have seen and heard."
Evangelisation -- the proclamation of the Good News brought through the fullness of God in Christ's life -- is, in fact, the declaration of the friendship of the Lord. Jesus solemnly exposed his heart to his followers during the intimate moment of the Last Supper: "you are not servants; you are my friends! And I chose you" (John: 15:15-17).
And he did not just speak of this friendship. Jesus truly lived this until the end. And he gave these friends a mandate to bear fruit that will last, which made the disciples into apostles. This is why, right at the beginning of his Pontificate, Pope Francis already called the baptised, 'missionary-disciples.'  We are the friends of Christ who are always in a state of mission. The prophet Jeremiah describes this experience as one of a consuming awareness of the Lord's active presence in our heart, impelling us to mission, regardless of the sacrifices and misunderstandings it may entail (Jeremiah 20:7-9). Love is always on the move and inspires us to share a wonderful and hope-filled message: "We have found the Messiah" (John 1:41).
Such awareness did not make life easy for Jesus' followers. Instead, intimidating and difficult experiences impelled them to use the realities of their lives as opportunities for mission. According to Pope Francis, the love of God discovered is the very Spirit that empowers one with certainty that "all those who entrust themselves to God will bear good fruit."
Our times are hard. For Pope Francis, the pandemic accentuated and amplified the pain, solitude, poverty, and injustices experienced by so many. Discouragement, disillusionment, fatigue, and growing negativity stifle hope. In these conditions, the powerful message of life echoes in our hearts that we need to proclaim "He is not here but has risen!" and he wants us to live.
There is an urgent need for a mission of compassion and for missionaries of hope. Everything we have received from the Lord is meant to be put to good use and freely shared with others. As Christians, we cannot keep the Lord to ourselves. the Church's evangelising mission finds outward fulfilment in the transformation of the world and the care of creation. 'Missionary-disciples' are women and men who are gifted in order to give.
This year, Pope Francis' World Mission Sunday Message wants us to own and share with others what we bear in our missionary-disciple hearts. Our life of faith calls for a growing openness to embracing everyone, everywhere.
The pope ended his message by affirming that the "Universal openness to love has a dimension that is not geographical but existential. Always, but especially in these times of pandemic, it is important to grow in our daily ability to widen our circle, to reach out to others who, albeit physically close to us, are not immediately part of our 'circle of interests.' "
A missionary disciple is willing to have the mind of Christ, to believe with him that those around us are also our sisters and brothers. May his compassionate love touch our hearts and make us all true missionary-disciples. And may Mary, the first missionary-disciple, increase in all of us the desire to be salt and light in our lands.