Raising a Child with Social Values
"How do you raise a kid with values in a world where values seem to count for very little?"
A soon-to-be father was admitting to me that he was feeling very uneasy about the world his son is shortly to be born into. Even in the relatively short time since he was a youngster, he feels the world has changed significantly.
And he's right. Ask any schoolteacher. They witness the changes first-hand on an ongoing basis over decades.
Twenty years ago, we muttered and laughed about not believing what a politician said. Today, many of the world's leaders seem to openly and comfortably lie and mislead and think nothing of it.
Social media appears to be hardening opinion into a black and white, them-or-us approach to just about everything and aggressive and vile name-calling replaces the exchange of ideas and intelligent, informed discussion.
Not to mention the financial fraudsters, the child abusers, violent parents, the people in high places only owning up to a 'misjudgement' when caught out and those in the commercial world who see young people not in nurturing, protective terms but in dollar terms.
Over the previous four decades our social conscience seems to have been dulled by heavy doses of a political philosophy of 'dog-eat-dog' material self-interest.
Radical individualism is a virus
As Pope Francis has recently reminded us:
"Individualism does not make us more free, more equal, more fraternal. The mere sum of individual interests is not capable of generating a better world for the whole human family. … Radical individualism is a virus that is extremely difficult to eliminate, for it is clever. It makes us believe that everything consists in giving free rein to our own ambitions, as if by pursuing ever greater ambitions and creating safety nets we would somehow be serving the common good." [Pope Francis, Fratelli Tutti, 105]
However, the good news is, that despite all this, most New Zealand youngsters still do grow up to be decent people with decent values. It's sometimes hard to see this when we have paraded before us, daily, the teenage drunks, the drugs, the boy-racers, and the vicious assaults and murders involving young people. 
Yet, buried amongst these headlines, there are reports of youngsters making a difference. Some have rescued people older than themselves from a series of life endangering incidents – fires, tidal rips and motor vehicle accidents. Others have raised money or provided labour to help others in less favourable situations.
Christchurch's student army, formed in the immediate aftermath of the earthquakes, showed that our young people do still have a social conscience and understand about serving the common good. 
Just before last Christmas, two delightful youngsters came to our door with a request for supplies for the food bank. They were polite, knew exactly what they were doing, could answer questions about why the food was needed and told me how their family was going to help those less fortunate than themselves on Christmas Day.
A bit of investigation shows that there are still many hundreds of other young people who do consider the needs of others - they're involved in Amnesty International, Young Vinnies and St John, they coach junior sports teams, help organise community events for other young people, visit sick neighbours and homes for the aged and contribute pocket money towards a sponsored child. 
Hopefully, the "team of 5 million" kindness approach to managing Covid further embeds this approach in our youngsters and our national psyche.
Kindness ought to be cultivated; it is no superficial bourgeois virtue
"Kindness frees us from the cruelty that at times infects human relationships, from the anxiety that prevents us from thinking of others, from the frantic flurry of activity that forgets that others also have a right to be happy …. Yet every now and then, miraculously, a kind person appears and is willing to set everything else aside in order to show interest, to give the gift of a smile, to speak a word of encouragement, to listen amid general indifference. If we make a daily effort to do exactly this, we can create a healthy social atmosphere…. Kindness ought to be cultivated; it is no superficial bourgeois virtue. Precisely because it entails esteem and respect for others…" [Fratelli Tutti, 224]
Every society needs to ensure that values are passed on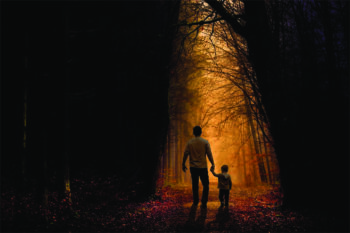 Over the last months, we have been challenged to build a society that honours the human person and the common good of all. The parable of the Good Samaritan featured in Pope Francis's Fratelli Tutti and in subsequent homilies and discussion groups. Jesus finishes this parable with the admonishment to "go and do likewise". [Luke 10:37]
So how does this soon-to-be-father go about pointing his son in the right direction to "go and do likewise"? 
By doing likewise himself. He does as he says, because his son will be watching. That's every minute they're together for 18 years. If father cheats on something; is a little dishonest somewhere; is abusive to others; his son will take on board those lessons. 
As parents we need to be clear about the things we believe in, the standards we set ourselves and the sort of adult we'd like our youngsters to become. Even young children have ideas about right and wrong and can make decisions based on these ideas. They observe every aspect of parental behaviour and absorb our values and the way they're applied.
"Every society needs to ensure that values are passed on; otherwise, what is handed down are selfishness, violence, corruption in its various forms, indifference and, ultimately, a life closed to transcendence and entrenched in individual interests." [Fratelli Tutti, 113]
Families are the first place where values are lived out and handed on
"Families are the first place where the values of love and fraternity, togetherness and sharing, concern and care for others are lived out and handed on." [Fratelli Tutti, 114]
Ponder this: when were we last passionate about doing something for the good of others? Have our children seen us in action? Is helping others a part of their daily lives? 
A social conscience is something children learn from observing us. They can't be told to make it part of who they are. It grows in them as they see us caring about others and about international, national and local issues. 
Whether it's marching in a cause, collecting for charity, coaching sport, the PTA, youth group leadership or delivering meals on wheels, they need to see us enthusiastically volunteering and to be a part of it.
How we model our values and our faith will shape our youngsters' values and faith. Well-established family values will guide their actions as they grow up and move out into the world around them.
They will test these values and their faith from time to time and, at some point, might experiment with things Mum and Dad wouldn't do. However, our modelling will generally win through in the end. The stronger children's values systems are then the more likely it will be that they will be able to stand up for themselves and maybe even exert positive peer pressure.
As well, our soon-to-be father will respect himself, will respect his wife and will respect his children. It's been said that one of the best things a father can do for his children is to demonstrably love their mother. That might sound very paternalistic, but, as with St Joseph, it is one of the greatest of values a father can model for both his sons and his daughters in shaping them as adults.