Francis Speaks – Do Not Be Afraid
In these days, news reports and scenes of death continue to enter our homes, even as bombs are destroying the homes of many of our defenceless Ukrainian brothers and sisters. The vicious war that has overtaken so many people, and caused suffering to all, has made each of us fearful and anxious. We sense our helplessness and our inadequacy. We need to be told, "Do not be afraid." Yet human reassurance is not enough. We need the closeness of God and the certainty of his forgiveness, which alone eliminates evil, disarms resentment and restores peace to our hearts. Let us return to God and to his forgiveness.
A third time the angel speaks to Mary and says, "The Holy Spirit will come upon you" (Lk 1:35). Again, the first time he says, "The Lord is with you". The second time his words are, "Do not be afraid". Now, he says, "The Holy Spirit will come upon you". That is how God intervenes in history: by giving his very Spirit. For in the things that matter, our own strength is not enough. By ourselves, we cannot succeed in resolving the contradictions of history or even those of our own hearts. We need the wisdom and gentle power of God that is the Holy Spirit. We need the Spirit of love who dispels hatred, soothes bitterness, extinguishes greed and rouses us from indifference. The Spirit gives us concord because he is concord. We need God's love, for our love is fragile and insufficient. We ask the Lord for many things, but how often we forget to ask him for what is most important and what he desires most to give us: the Holy Spirit, the power to love. Indeed, without love, what can we offer to the world? It has been said that a Christian without love is like a needle that does not sew: it stings, it wounds, and if it fails to sew, weave or patch, then it is useless. I would dare to say that this person is not a Christian. This is why we need to find in God's forgiveness the power of love: the same Spirit who descended upon Mary
Homily on March 25th, 2022. Penance and Immaculate Heart of Mary
The Path of Holiness
Holiness does not consist of a few heroic gestures, but of many small acts of daily love.  "Are you called to the consecrated life?  Then be holy by living out your commitment with joy.  Are you married?  Be holy by loving and caring for your husband or wife, as Christ does for the Church.  Do you work for a living?  Be holy by labouring with integrity and skill in the service of your brothers and sisters, by fighting for justice for your comrades, so that they do not remain without work, so that they always receive a just wage.  Are you a parent or grandparent?  Be holy by patiently teaching the little ones how to follow Jesus.  Tell me, are you in a position of authority? Then be holy by working for the common good and renouncing personal gain" (Gaudete et Exsultate, 14).  This is the path of holiness, and it is so simple!  To see Jesus always in others.
Homily May 15th, 2022. Canonization of New Saints
The Holy Spirit brings Goodness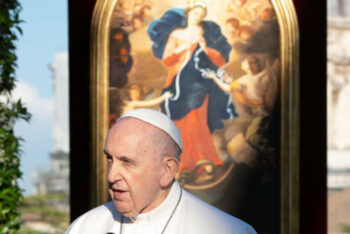 Then again, whenever you feel troubled by bitterness, pessimism and negativity – how many times have we fallen into this! – then it is good to remember that these things never come from the Holy Spirit. Bitterness, pessimism, sad thoughts, these never come from the Holy Spirit. They come from evil, which is at home with negativity. It often uses this strategy: it stokes impatience and self-pity, and with self-pity the need to blame others for all our problems. It makes us edgy, suspicious, querulous. Complaining is the language of the evil spirit; he wants to make you complain, to be gloomy, to put on a funeral face. The Holy Spirit on the other hand urges us never to lose heart and always to start over again. He always encourages you to get up. He takes you by the hand and says: "Get up!" How do we do that? By jumping right in, without waiting for someone else. And by spreading hope and joy, not complaints; never envying others. Never! Envy is the door through which the evil spirit enters. The Bible tells us this: by the envy of the devil, evil entered the world. So never be envious! The Holy Spirit brings you goodness; he leads you to rejoice in the success of others.
Homily  – June 5th, 2022. Feast of Pentecost