Can You Bear it?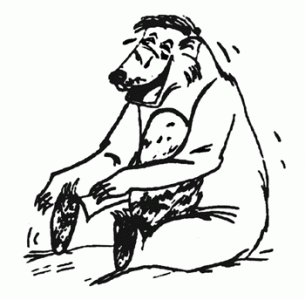 A driver got a speeding ticket and went to pay the fine.
The police clerk issued a receipt for payment and the annoyed driver said,
"What am I supposed to do with this?"
"Keep it," the clerk advised. "If you collect enough of them, you get a bicycle!"
---
A guy bought his wife a beautiful diamond ring for her birthday.
A friend of his said, "I thought she wanted one of those jazzy 4-wheel drive vehicles."
"She did," he replied. "But where in the world was I going to find a fake jeep!!"
---
Stephen King has a brother named Joe. I'm not joking, but he is.
---
The golfer sliced a ball into a field of chickens, striking one of the hens and killing it instantly. He was understandably upset, and sought out the farmer.
"I'm sorry," he said, "my terrible tee-shot hit one of your hens and killed it. Can I replace the hen?"
"I don't know about that," replied the farmer, mulling it over. "How many eggs do you lay a day?"
---
Getting OLD and other things
I used to be able to do cartwheels.
Now I tip over putting on my underwear.
…………………………………………………
I told my wife she should embrace her mistakes… so she hugged me.
…………………………………………………
At my funeral, take the bouquet off my coffin and throw it into the crowd to see who is next.
…………………………………………………
The officer said, "You drinking?" I said, "You buying?" We just laughed and laughed…. Now I need bail money.
…………………………………………………
Scientists say the universe is made up of protons, neutrons and electrons. They forgot to mention morons.
…………………………………………………
Wi-fi went down for five minutes, so I had to talk to my family. They seem like nice people.
---
If you see me talking to myself, just move along. I'm self-employed; we're having a staff meeting.