Advice from Fr Colin to Peter Chanel
Peter Chanel had already been a priest of the diocese of Belley for three years when he asked to join the Society of Mary at the beginning of 1831. He would have been influenced by his strong Marian devotion, conveyed in his motto, 'To love Mary and make her loved', and by the prospect of foreign Missions, which the Marists had expressed their readiness to accept 'in any part of the world'.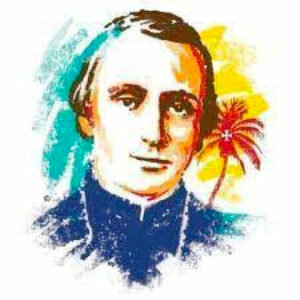 The Society had not yet been approved and had no foreign missions. It was engaged in parish missions and teaching in the dioceses of Lyons and Belley, and Jean-Claude Colin had recently been elected as 'Centre of Unity' or 'Central Superior' of both groups. In August 1831 Peter was appointed to the College at Belley, where Colin was principal. In the following month he joined Marist priest-aspirants from both dioceses in a retreat. This concluded with an act of collective consecration to Our Lady, in which they promised her to do everything they could to further the 'success and spread of your Society'. On 2 February 1833 they made a private vow to work for its official recognition. 
Peter was one of the two priests who accompanied Jean-Claude to Rome that same year seeking the Pope's approval of the Society. Three years later, the Marists accepted the new mission field of Western Oceania (south-western Pacific). Peter was one of the twenty priests who, on 24 September 1836, elected Colin as Superior General and made their religious vows. By the end of the year, he was on his way to the Pacific with a small band of missionary priests and brothers headed by Bishop Jean-Baptiste Pompallier. He never saw Jean-Claude again.
Colin wrote a letter to the departing missionaries. It was addressed to Peter Chanel, who was to pass it round so that each could make his own copy. The superior general admitted that he was unworthy to share with his confreres the "grace of apostolate and martyrdom" but asked to be allowed to send them some words of advice, which could prove useful and were a proof of his 'tender affection'. Colin's counsels, he told Bishop Pompallier, cost him several days' prayer. They are seven (or eight) in number: never to rely on themselves, but only on Jesus and Mary; never to lose sight of the presence of Christ, who was sending them out and would always be with them, to the point of identifying himself with them; in any evil that might befall them—persecutions, dangers, privations, temptations, sickness—not to look inwards, but outwards to Jesus and Mary, to heaven, to the Saviour's sufferings; to be men of prayer and meditation ("to convert a soul is more than to raise the dead"); to say at least several decades of the rosary each day and place each island they reached under the protection of Mary; as far as possible to be always simple, modest, poor, but clean and tidy in their dress and outward appearance, asking permissions of one another when they could not have recourse to Bishop Pompallier; to avoid being alone, which would be especially dangerous in Polynesia; finally, to keep unity and peace among themselves. At the end of the copy that one of the missionaries, Pierre Bataillon, made for himself, he wrote: "Precious reminder and rule of conduct for always." 
After finishing his letter, Colin added a postscript. In it he referred to an 'extract from the Constitutions of the Society' that he was sending to all the missionaries. These were still in draft form known as the Epitome of the Rules of the Society of Mary. Colin realised, though, that they would only be able to observe "the rule that circumstances permit" 
One important paragraph of the Epitome deserves to be quoted in full:
"In order to remove all obstacles to greater fruitfulness in the vineyard of the Lord, let them show themselves everywhere humble of heart. Following in the footsteps of the Blessed Virgin Mary let them always behave with such tact and self-effacement that they will not give anyone cause for reproach. As a result, even though they can—and ought, according to their ability—give themselves to every kind of ministry for the salvation of souls, they will seem to be hidden and unknown in the world."
Jean-Claude Colin's letter and the draft Epitome served Peter Chanel as a rule of life that led him into holiness.