The Beginnings of the Catholic Church in Tonga – Part 1
Based on the writings of Fr Joseph Deihl SM, adapted by the editor.
Italics are used where Fr Deihl is quoted directly and at length.
The first Mass
On the evening of the Feast of the Visitation on 1 July 1842, the first Catholic missionaries arrived in Tonga. The group on board the Sancta Maria was made up of Bishop Jean-Baptiste Pompallier, Fr Joseph André Chevron SM, Br Attale Grimaud SM, and the newly-converted King of Catholic Wallis, Lavelua, with a large party of Christians.
On an altar set up in the shade of a huge banyan tree on the small island of Pangaimotu, which overlooks Tongatapu, the main island, Fr Chevron celebrated the first Mass in Tonga.
Fr Chevron came from Nantes, in western France. As a young diocesan priest with indifferent health, he applied to his bishop to go to the missions. The bishop asked him to minister for ten years in the diocese, which he did, and then he applied to join the Society of Mary. He left for Oceania in 1839 in the third group of Marists sent from France, making his novitiate on the ship. A brief time in New Zealand was followed by six months on Futuna with Peter Chanel and Br Marie Nizier shortly before Peter Chanel's martyrdom, and then a year on Wallis Island. He was the first Marist appointed to Tonga in 1842, where he worked for forty-two years.
Fr Chevron had tried to set out for the missions without his mother knowing.
Fr Deihl wrote about this: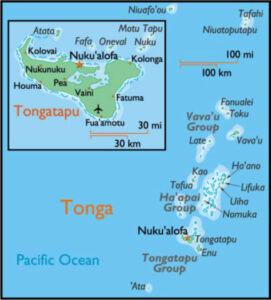 In spite of his silence and most secret preparations, at the very last moment, the mother suspected that her son's departure had something of finality in it. His words of farewell held a gravity and solemnity not witnessed before. The housekeeper confirmed that mother's suspicions: "Madame, you will never see your son again, he is going far away to the missions: he sleeps on rough boards, he fasts and abstains, he prays every day and night." As his mother said farewell to him, Fr Chevron said, "Tell me, mother, to go back with you, and I will not depart." She replied, "You are a priest, my son, and who am I to oppose myself to God? Go where he calls you!"
The foundation of the Catholic Mission
After that first Mass, Bishop Pompallier and his party made an official visit to Nuku'alofa, the capital. In 1840, the bishop had visited King George Taufa'ahau, who had become king of all Tonga in 1845. As George Tupou I, he established a parliament in 1862 and died in 1893.
After consulting his advisors, especially the Methodist minister, Mr Thomas, the king had told Bishop Pompallier that it was useless to try to establish a Catholic Mission. The king added that he wanted the bishop to leave the island immediately.
Remembering this cold reception, the bishop approached the capital "with no little apprehension," Fr Deihl wrote. "What would he say this time?" Happily, King George Taufa'ahau was absent. Instead, the Kana-Kupolu[1]whose name was Aleamotu'a,[2]received the visitors quite graciously.
Fr Deihl wrote, In our parish of Ma'ufanga, there was an old, old Tongan woman who still remembered that day, and loved to tell us in her simple, vivid way, how, as a mere child, she followed the Bishop's party from the shore to the King's palace, and saw and heard all that took place at that most important interview. Presenting a huge kava root to the King, Bishop Pompallier officially requested the favour of being allowed to establish a Catholic Mission in His Majesty's beautiful land. The request was granted in the following way. "Nuku'alofa," he replied, "has already received the English man's religion; it were better for you to go to the yet pagan town of Pea."
The village of Pea
Aleamotu'a had become a Methodist. Through his powerful ally, King George Taufa'ahau, ruler of the Ha'apai Group and Regent of Vava'u, he had extended his authority and Methodism to practically all the villages in Tongatapu. The village of Pea is almost in the centre of Tongatapu, on the south-east side of a large bay, with a moat, palisade and a wall of earth and logs as fortifications. Its inhabitants had resolutely refused to submit to the new religion, and to Aleamotu'a, whose power now represented Methodism. Taufa'ahau, with warriors from Ha'apai and Vava'u, had failed to take Pea by assault. Pea thus became the symbol of triumphant paganism or the so-called 'Devil's Party,' and a very sharp thorn in the side of the Methodist or 'Christian Party.'
Fr Deihl takes up the story again:
Two messengers, Tongans who had become Catholic in Wallis, were immediately sent to the two great chiefs of Pea, Moeaki and Lavaka. The news that great 'white chiefs' were coming to establish the true religion in the renowned, fortified town was received with lively enthusiasm by the entire population. But none was happier than the young and noble wife of Moeaki, Fieota'aga (which means in English, 'one who loves to eat raw sharks,').[3] She had had a mysterious dream. Missionaries of the true religion were to come to Pea, and would heal all her children with sacred water.
Thus, the Catholic Mission became established officially in Tonga -- blessed by the absence of King George, the welcome offered by the village of Pea, and Fieota'aga's influence -- when Fr Chevron and Br Attale began to live in Pea on 2 July 1842.
A place to live
Moeake gave Fr Chevron his hut in which to live. This was a way of demonstrating that the Catholic Mission, represented by Fr Chevron and Br Attale, would be protected by the people of Pea. Bishop Pompallier celebrated a solemn Mass, after which he said goodbye to Fr Chevron and Br Attale and set out for his headquarters in New Zealand.
Father Chevron's first convert was Moeake's wife, Fieota'aga. She used to love to tell the Marists how Fr Chevron spent his first night in Moeaki's house:
She had, in the Tongan way, given him a mat to sleep on. No sooner had he settled down to his well-earned rest when suddenly he became aware that his bed was inhabited by certain little, unfindable creatures. So, when he thought everyone in the house was asleep, he arose quietly and went outside to recite his Rosary. Fieota'aga had been observing him all the while. She cautiously peeped through the reed wall and stood there in silent admiration. It was a beautiful, calm night. As the golden globe of the full moon's quivering light shone through the trees, softly reflecting its silvery sheen on the white stranger's uplifted face, it seemed to her that she saw not a man but an angel. She wakened her husband, who also admired him, and felt strangely moved as he wondered what that prayer and what those slowly-moving beads were that could reflect upon one's face such a sweet peace and happiness.
The first catechumens
Just then, a messenger arrived from Nuku'alofa with a counter-order from Aleamotu'a. Moeaki was not to accommodate the missionaries. A 'fono,' or gathering of chiefs, took place, to which Father Chevron was invited. The chiefs were afraid of the king's anger.
Father Chevron addressed them as follows: "This hesitation I see in you this morning proves the love you have already for me. I am greatly touched by it and am firmly resolved, for my part, never to quit Pea. Only sheer violence could tear me away from you. If need be, I'll willingly give my life for your eternal happiness and that of all the Tongan people.
"Moeaki thanked Fr Chevron for his determination, adding that Pea's fort would be prepared for an attack: "You will stay with us; you will teach us your religion, you will bless us, and if we are attacked, we shall die together!"
Bishop Pompallier celebrated Mass in Moeaki's house on 3 July and Fieota'aga became a catechumen. By the time the bishop sailed from Tonga on 13 July, a hundred people were enrolled as catechumens.
"Thus, in spite of all difficulties," Fr Deihl wrote, "was the little mustard seed of Faith planted in Tongan soil." By the time of Fr Chevron's death in 1884, there were 17,000 Catholics in Tonga, ministered to by seven missionaries, and Fr Chevron was acclaimed as 'The Apostle of Tonga.'
It must be said, though, that his achievements and those of the other missionaries came about through great suffering.
Sources: Marist Messenger, May 1932, November 1933, February 1934