Mary Assumed into Heaven / The Eucharist
Mary Assumed into Heaven
The poet Dante calls the Virgin Mary, "humbler and loftier than any creature" (Paradise, XXXIII, 2). It is beautiful to think that the humblest and loftiest creature in history, the first to win heaven with her entire being, in soul and body, lived out her life for the most part within the domestic walls, in the ordinary, in humility.
The days of the Full of Grace were not all that striking. They followed one another, often exactly the same, in silence -- externally, nothing extraordinary. But God's gaze was always upon her, admiring her humility, her availability, the beauty of her heart never stained by sin.
It is a huge message of hope for each of us, for you whose days are always the same, tiring and often difficult. Mary reminds you today that God calls you to this glorious destiny too. These are not just beautiful words -- it is the truth. It is not a well-crafted, beautiful ending, a pious illusion or a false consolation. No, it is pure reality, living and true as Our Lady assumed into Heaven.
Let us celebrate her today with the love of children, let us celebrate her joyfully but humbly, enlivened by the hope of one day being with her in Heaven!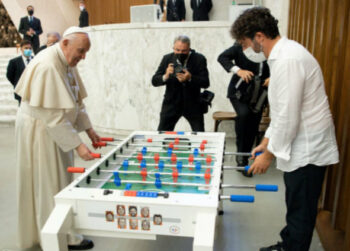 And let us pray to her now that she may accompany us on our journey that leads from Earth to Heaven. May she remind us that the secret to the journey is contained in the word humility. Let us not forget this word, and that lowliness and service are the secrets for obtaining the goal of reaching Heaven.
Angelus Address, Assumption Day, 2021
The Eucharist
Even today, God's revelation in Jesus' humanity can cause scandal and is not easy to accept. This is what Saint Paul calls the folly of the Gospel in the face of those who seek miracles or worldly wisdom (cf. 1 Corinthians 1:18-25).
And this 'scandalousness' is well represented by the sacrament of the Eucharist: what sense can there be, in the eyes of the world, in kneeling before a piece of bread? Why on earth should someone be nourished constantly with this bread? The world is scandalised.
Faced with this prodigious deed of Jesus, who with five loaves and two fish fed thousands of people, everyone acclaimed him and wanted to lift him up in triumph, to make him king. But when he explained that the gesture was a sign of his sacrifice, that is, of the gift of his life, his flesh and blood, and that those who want to follow him must resemble him, his humanity given for God and for others, then no, this Jesus was no longer liked, this Jesus throws us into crisis.
Rather, we should be worried if he does not throw us into crisis, because we might have watered down his message!
And let us ask for the grace to let ourselves be provoked and converted by his "words of eternal life." And may Mary Most Holy, who bore her Son Jesus in the flesh and joined herself to his sacrifice, help us to bear witness always to our faith in our real lives.
Angelus Address, 22 August 2021
Hypocrisy
In our continuing catechesis on the Letter to the Galatians, we have seen how Paul teaches that those living in the grace of Christ are set free from the demands of the Mosaic Law. Today we consider Paul's claim that he had reprimanded Saint Peter in this regard.
Peter had taken meals with Gentile Christians, but ceased to do so when a group of circumcised Christians arrived from Jerusalem. For Paul, this was a form of hypocrisy (Galatians 2:13) that caused division in the community.
All hypocrisy is born of a fear that holds us back from speaking the full truth. It leads to a life of pretence, where we say one thing but do another.
Hypocrisy spreads like a virus. We find it often in our workplaces, in political life and, most detestably, in the Church itself. Jesus told us to let our yes be yes and our no be no (cf Matthew 5:37). To act otherwise is to jeopardise the very unity within the Church for which the Lord himself prayed.
The Paralympics
Yesterday, in Tokyo, the Paralympic Games got under way. I send my greetings to the athletes and I thank them because they offer everyone a witness of hope and courage.
They, in fact, manifest how being committed to sports helps overcome apparently insurmountable difficulties.
General Audience, 25 August 2021
Source: vatican.va