St Anne and Her Daughter Mary
By Frances Mazur
Photos: Fr Kerry Prendeville SM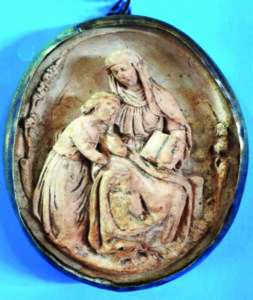 This small art-piece was made in Edinburgh, Scotland, in about 1678. It was displayed in a roadside shrine on the Inverness road.
After the Battle of Culloden in August 1745, orders were given to destroy churches and shrines in and around Inverness and the Scottish Highlands. Ancestors of the McClaren family collected relics and other items from Catholic chapels and churches before they were ransacked and destroyed by English soldiers.
Catherine Anne Mitchell and her family gathered many Catholic items. Blanche Mitchell brought this image of St Anne and Mary to Aotearoa New Zealand in 1896.
Blanche died in Onehunga, Auckland, in 1963, at which time the treasure was passed on to Joan Mary (McLaren) Murphy, the mother of Fr Kevin Murphy SM, along with the request that it be presented to the Parish of St Anne in Manurewa.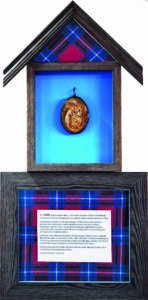 Across the oceans and seas, across the years and centuries, through generations and families, came this very special bas-relief of St Anne with her daughter Mary, teaching her the scriptures.
It was presented to St Anne's Parish by descendants of the Mitchell family on the feast of St Anne and St Joachim, 26 July 2020. The treasure is now mounted in a look-alike roadside shrine, surrounded by the Mitchell clan tartan.