Something Old – Something New [1]
Part 3 of 7
A Possible Marist Integral Ecology
 - 
Part 2
[The second of three Circles: 'to love tenderly']
Circle 2: 'Loving tenderly' - The Ecological Community
In our last article we reflected on 'walking humbly with God' [Micah 6:8] -- personal holiness -- the first of three inter-related, and inter-connected circles, for a possible Marist Integral Ecology.
In this article we reflect on 'loving tenderly' [Micah 6:8 ff] -- community life -- the second circle named by the Marist Council of the Society in 2005 as an integral dimension of who we are.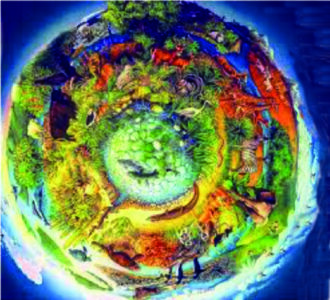 When we look at life in society through the eyes of Laudato Sì, asking the question "and who is my neighbour?" [2] [the one I am called to 'love tenderly'] we are led to the answer that St Francis himself realised, lived, and prayed from, and to which Pope Francis is now re-calling us: brother sun, sister moon and the stars, brother wind, sister water, brother fire, sister-mother earth.[3]
What St Francis knew from his mystical experience, science now clearly tells us from empirical data: that everything in the biosphere, and indeed in the universe, is interconnected and inter-related. They are not just 'resources' to be exploited for human material benefit, but they are in some real way our brothers and sisters whom we have a moral obligation to love, respect, care for, sustain, and help flourish.[4] This calls us to a profound humility in our place amidst all other creatures. Humility is a key Marist virtue[5]grounded in the person of the eternal Word, who humbled himself even unto death[6] in order to release the Spirit to bring about a new heaven and a new earth.[7]
The question "Who am I?", fundamental to self-understanding, can be answered only in the context of answering the question "To whom do I belong?"[8] Here again, science concurs with indigenous and perennial wisdom: that all creation is interconnected and inter-related, and this connects ultimately with our faith in the Trinity: a Divine Communion of inter-relationships.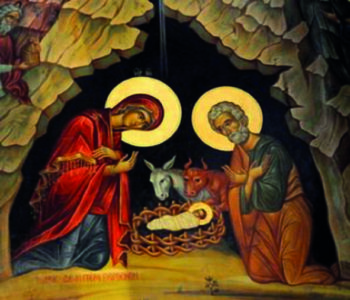 To be free people it is helpful to revisit, prayerfully, lovingly, and respectively all the communities to which we have belonged, and now belong: our family of birth / adoption, our extended family, our faith community, our cultural / ethnic family, our school – university – work communities, our Church communities, and our cross-cultural immersion experiences. We are in reality global citizens, and children of the Universe. In all of these relationships, the Spirit of Jesus is at work to heal us, restore us, and to transfigure us and all creatures into who and what God created us to be.
Saints and theologians can help us find our path on this journey of transfiguration. St Bonaventure shares with us this wisdom: "By power, presence and essence, God is the One whose centre is everywhere, and whose circumference is nowhere. God exists uncircumscribed in everything: within all things, but not enclosed; outside all things, but not excluded; above all things, but not aloof; below all things, but not debased… Indeed, he possesses being with rocks, lives among the plants, senses with animals, and understands with angels. Since Christ, as a human being, has something from all creation, and was transfigured, all is said to be transfigured in him."[9]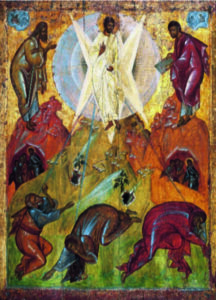 Elizabeth Johnson says that Incarnation is a new radical embodiment: where the Word/Wisdom of God accomplishes a new level of union between Creator and creature. "What is not assumed is not healed" [Gregory of Nazianzus 329-390]. "The flesh assumed in Jesus connects with all humanity, all biological life, all soil, the whole matrix of the material universe down to its very roots" [Ask the Beasts, 196]. "Jesus is wedded to the cosmic dust. Matter and flesh become part of God's own story forever. The Incarnation is a cosmic event. Jesus' proclamation is filled with references to seeds, harvest, wheat, weeds, vineyards, fruit trees, rain, sunsets, sheep, and birds; lilies, meals, and poor human beings. Jesus' self-emptying, Kenosis [Philippians 2:7-8], traces an arc of divine humility -- of creative love in action. We can see the death of Christ as God's redemptive co-suffering with all sentient life. Dwelling in the evolving world and acting in, with, and under its natural processes, the Giver of life continuously knows and bears the cost of new life."[12]
When we enter into this vision of Community, called for in Laudato Sì, and are drawn into living it in practice, then the perennial exercises of Christian life can take on a new dimension. Our meals, our conversations, our forms of prayer, our hospitality, and our common projects can be lived in and through an ecological awareness of inter-relationship and inter-connection. We are daily being transfigured, while co-operating with God at this point in time, as God irresistibly brings about a new heaven and a new earth.
For Reflection and Prayer:
• Canticle of Creatures: how does it speak to me about other creatures? about all life? about God?
• The Coronavirus: how is this related to the Paschal Mystery at work in Creation?
• Where is the Spirit at work in the 'communion of subjects'? Is there a way I can offer a healing hand?
• Who are the people who help me understand the Era in which we live? How do they shape my thinking, my prayer, my action?
• Can we find ways to re-vitalise the Christian Story within the context of the Story of the Universe?  
FOOTNOTES
[1] Matthew 13:52 – "Every scribe who has become a disciple of the kingdom of heaven is like a head of a household, … who brings out of his treasure things new and old."
[2] Luke 10:29 
[3] St Francis of Assisi – Canticle of the Creatures
[4] See the work of Thomas Berry, Brian Swomme, Ilia Delio, Elizabeth Johnson, Dennis Edwards etc
[5] Constitutions: 7, 24, 27, 197, 218-220, 228
[6] Philippians 2:8
[7] Revelations 21:1 [Isaiah 65:17, 2 Peter 3:13]
[8] This was well developed in the Choice Program, a branch of Marriage Encounter, Chuck Gallagher SJ
[9] Sermones Dominicales, 9.12
[10] Denis Edwards, Deep Incarnation – God's Redemptive Suffering with Creatures,  Maryknoll, Orbis Books, 2019
[11] Ibid p.xvii
Tagged as: ecology, environment, Incarnation, who am i
Comments are closed.