Something Old – Something New [1]
Exploring Frameworks for Marist Eco-Spirituality and Practice
Part 1 of 7 
Some years ago, a few questions began bubbling away within me: Who is God in an ever-expanding Universe? How does my relationship with God change as our world view widens? Who is Jesus, and who is his mother Mary, in these times when science and faith are now finding the common language of 'mystery' and 'inter-relationship'? How do the answers to these questions affect the way I pray, the way I live, the way I engage in my own faith community, and with the wider world?
First Possible Framework:
the three circles from the Council of the Society of Mary, 2005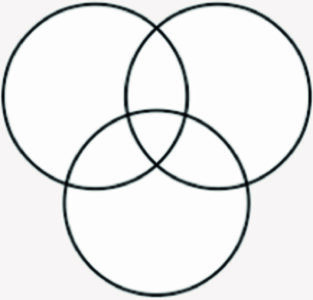 When Pope Francis gifted the world with 'Laudato Sì' – On Care for Our Common Home' [2] on the feast of Pentecost 2015, a framework was given, I believe, to help us answer these questions in a Marist context.
Chapter Four addresses the need for an 'Integral Ecology' [n.137], and the Council of the Society of Mary, Mexico, in 2005 (CS 2005) had presented us with 'Three Circles' as an integral way of Marist life.
The three inter-linked circles of CS 2005 are: personal holiness, community life, and mission. [3] These three circles correspond to the Call of prophet Micah, a minor prophet with something major to say, seven hundred years before Christ: to walk humbly, to love tenderly, and to act justly (Micah 6:8). These simple words provide an integrated program for Christian living.
In talking over this framework with other Marists, [4] they pointed out that the dynamism occurs where all three circles overlap. When we have a healthy spiritual life, a healthy community life, and a real mission, then in the intersection of the three circles we find the optimum Marist life.
These three circles, I believe, can be reframed for shaping a paradigm for a Marist-Eco spirituality and practice:
1: Walking humbly with God – personal holiness – as the ecological self.
2: Loving tenderly – community – as the ecological community.
3: Acting Justly – restoring wounded and broken relationships in mission and ministry – as the ecological mission.
Second Possible Framework:
four foundational moments in a Marist Vocation
When pondering over the years about where our Marist Story connects with the Universal Story, a second paradigm for a Marist-Eco spirituality and practice has struck me, in four key moments of our history. These moments correspond to four Universal symbols, which while being Marist, can speak to all Christians, and possibly to people of other Faith-traditions, to form an Integral Spirituality.
The universal symbols are: 
1: Call
2: Commitment
3: Experience of the Divine Mystery and
4: Mission
These universal symbols are grounded in our branch of the Society in four specific historical and geographical moments:
1: Call – Le Puy
2: Commitment – Fourvière
3: Experience of God – Cerdon
4: Mission – Bugey and Oceania.
Call – Le Puy
"We must give to these events at Le Puy their rightful place as marking the true origin of the name and idea of our Society, and as setting in motion a work of glorifying God and our Lady which, we hope, is not yet finished" – Fr Jean Coste SM, Lectures on Society of Mary History – p 23
Call – Laudato Si', 16
"I will point to the intimate relationship between the poor and the fragility of the planet, the conviction that everything in the world is connected; … and the proposal of a new lifestyle."
Commitment – Fourvière
"This ceremony was the first official act of the early Marists. The free and solemn Pledge signed by them truly marked the birth of what until then had been only a project. There can be no doubt but that the Society's foundation should be dated 23 July 1816." Coste, ibid., p 33
Commitment – Laudato Si', 6
"The book of nature is one and indivisible, and includes the environment, life, sexuality, the family, and social relations."
Tasting God – Cerdon
"Over a period of six years, I experienced extraordinary serenity when thinking about the Society, with a clear feeling that it was the work of God…" Venerable Jean-Claude Colin, quoted in 'A Certain Way,' p 28.
Tasting God – Laudato Si', 85
"God has written a precious book, 'whose letters are the multitude of created things present in the universe'. - 'To sense each creature singing the hymn of its existence is to live joyfully in God's love and hope'." 
Mission – Bugey-Oceania
"What should arouse confidence in the missionary is the fact that s/he is being sent by Jesus Christ. Furthermore, God never places anyone in a situation without giving the graces s/he needs."
A Founder Speaks,' 102.13
Mission – Laudato Si', 165
"We shall try to outline the major paths of dialogue which can help us escape the spiral of self-destruction which currently engulfs us."
Laudato Sì can be viewed, integrated, and implemented within this framework of four symbols / moments: to seek and find how we are able to make Pope Francis' exhortation become alive and active for us.
We can go through the encyclical, prayerfully and deliberately, and digest passages according to:
                 Call,
                 Commitment,
 Experience of God, and
               Mission.
In this way we can appropriate the text as Marist living moments for us today: Our Le Puy for now, Our Fourvière for now, our Cerdon for now, and our Mission for now.
This is the introductory article of seven. Each article will unpack further the aspects of a [Marist] Eco-Spirituality and Practice.  
[1] Matthew 13:52 – "Every scribe who has become a disciple of the kingdom of heaven is like a head of a household, who brings out of his treasure things new and old."
[2] Encyclical Letter: 2015, Pentecost, Libreria Editrice Vaticana
[3] Council of the S M 2005 text: pages 7-8
[4] Conversations of author with Frs Justin Taylor and Larry Duffy