Fr Roger McCarrick SM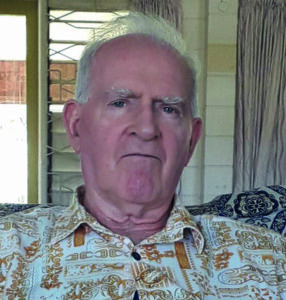 Born: 15 August 1935 at Longhill,
County Sligo, Ireland
Professed: 12 September 1955
Ordained: 27 May 1961 
Died: 16 October 2020 in Suva, Fiji
Fr Roger McCarrick SM was born into a family in County Sligo which had a history of vocations to the Marist Sisters as well as to the diocesan priesthood.
While Roger spent much of his priestly life in Oceania, almost all his life was marked by an even wider internationality. This began in his formation because he did his novitiate in Paignton, England (1954-5), and then completed his studies in Philosophy at Milltown, Ireland (1955-57) and, finally, for his theology was sent to Sainte Foy, Lyon, France (1957-1961). Study in France enhanced his skills in the French language which he later put to good use as General Secretary of the CEPAC Bishops' Conference (from 2002 to 2010).
A certain amount of Roger's priestly ministry was devoted to teaching. After ordination, he taught for three years in his home province of Ireland, then moved to the province of Washington in the United States where he taught in schools and the seminary for five years. His call to international mission was confirmed with an appointment to Oceania in 1968. Throughout his life he had a love for teaching and he continued this ministry in Fiji, at St John's Cawaci (1975-1977), where he was remembered in particular for his skills as a singer, singing teacher and choir master. His love of music and skill therein led to him publishing a book of hymns for Fiji which is still in use in some parishes to this day. Then his internationality was extended further by an invitation to join a Marist effort to staff a school in Pakistan. So, from 1978 until 1982 he was teaching in Lahore.
In his sabbatical in the USA after his time in Lahore, Roger focussed on developing his skills and knowledge in another particular area of personal love -- the study of Scripture. When he re-joined the province of Oceania in 1985, he was invited to leave Fiji for a time to serve in Bougainville (Papua New Guinea). His parish ministry in Bougainville was taken up with teaching scripture in parish communities, providing this background in scripture for the people in parishes close to where he was appointed. But at this time the Bougainville crisis was developing and by 1989 the civil war between PNG defence forces and Bougainville Revolutionary forces had broken out. A PNG officer was not happy with the way Roger taught the scriptures and it seems Roger was expelled from Buka to Rabaul, the island province neighbouring on Bougainville. At this time, the seminary in Rabaul needed someone to teach scripture, so Roger lectured in scripture there from 1997 until 2001. He was also a witness, from a safe distance, of the eruption of Tavurvur volcano in September 1994 which buried Rabaul in metres of ash and forced the town to rebuild on a new site, Vunapope, meaning 'the town of the Pope,' which had been the base of the MSC mission in that Archdiocese.
By the end of 2001, the Bishops of the Pacific needed a French and English speaking general secretary and asked the Society of Mary to allow Roger to take up this position – which led him back to Fiji. From 2002 until 2010 Roger was the General Secretary and Director of Secretariat for CEPAC. This work entailed being responsible for the Pontifical Mission Society, communications between Holy See and the Bishops' Conference and a certain amount of work as secretary to the Senate of Pacific Regional Seminary. While carrying out this work he continued teaching scripture at Corpus Christi Teachers' College and became involved in giving retreats for Sisters.
Roger's last few years were spent in Suva with a part-time post as Provincial Archivist for the Oceania Province. He was particularly entranced with the life of an early Irish sailor in the Pacific, Peter Dillon, and wrote a booklet about him. He still maintained his love of parish work and was faithfully in the confessional every Saturday.
Roger maintained a deep love for his family throughout his life. He was known from his earlier years in the Pacific for writing regularly to the various branches of his family, especially at Christmas. This close bond was made visible with two eulogies sent by his family for inclusion in his funeral Mass. We pray that now Roger has settled into a permanent home, in peace with his God.  
Many thanks to Fr Michael O'Connor SM for this tribute to Fr Roger.
1 Responses »