St Teresa of Ávila and The Way of Perfection
Its teaching on prayer -- Part 2 of 2
The second major teaching in this spiritual classic, The Way of Perfection, is found in St Teresa's commentary on the Lord's Prayer, the Our Father, in Chapters 27-42.
Imagine the honour and privilege of being able to address God as our Father. How close we are to his heart. Yet, with great common sense, St Teresa also tells her daughters and us not to be concerned about our origins or ancestry. These are as nothing compared to the privilege of now being the children of the Father.
During this commentary, St Teresa explains the various types of prayer:
•  vocal prayer,
•  prayer of recollection,
•  prayer of quiet,
•  contemplation and
•  Eucharistic prayer.
She writes, "in the Pater noster / Our Father, the Lord has taught us the whole method of prayer and contemplation, from the very beginning of mental prayer to Quiet and Union"
[Chapter 37].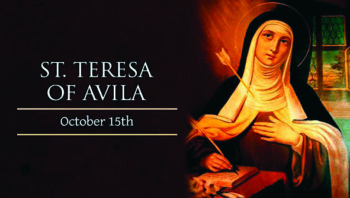 It would be an art beyond me to explain these types of prayer, but I have a simpler aim: to get you to read the book, which will be a friend for life!
You may wonder what those different types of prayer are about? Basically, it means not a thing or a prize, but a relationship with the Lord. Just as a married couple from engagement to silver then golden anniversary become deeper and deeper in love, their way of relating deepens. So, in a parallel way in prayer, we are drawn to new ways of praying. St Teresa is the guide to those ways, as no one else is.
Prayer of recollection
In Chapter 28, St Teresa explains how, once we are aware of the closeness of the loving Father, we will be drawn to him. We are shown the vanities of this world and how near God is.
Vocal prayer
St Teresa writes that vocal prayer done well can lead to prayer of quiet. This is a peaceful internal repose by which the soul is captivated by the divine presence. The person praying is seeking God and God is seeking them more earnestly. Consequently, St Teresa insists that we pray with persistence: "they must have a great and very resolute determination to persevere".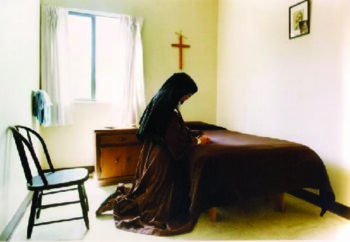 Prayer of quiet
In Chapter 31, St Teresa described what she had begun to experience herself. "This prayer is something supernatural, something we cannot procure through our own efforts. In it the soul enters into peace, or better, the Lord puts it at peace by his presence ... they feel the greatest delight in their body and a great satisfaction in their soul. They feel so happy merely with being close to the fount".
Of course, the gift of this prayer is not leading us to be self-satisfied or pleased with ourselves. Quite the opposite happens. In the prayer of quiet, persons wish to give themselves to Christ and his holy will and surrender to the path God puts before them.
St Teresa suggests three key lessons to remember in order to grow. First that we remember always God dwelling within us. Secondly, she wrote these famous words "As Christ does not force our will, he only takes what we give him, but he does not give himself entirely until we give ourselves entirely to him". Thirdly, we are invited to keep conscious of the Divine Indwelling all day. She insists that we keep our minds and hearts set on heavenly delight, not an escape from this world but as our deepest desire and longing for God. The third degree of prayer is, of course, a foretaste of the delight of heaven, giving us an experiential knowledge of God. The gifts of the Holy Spirit are working within us. She insists that the prayer of quiet is a gift received. It is not that we do nothing, but God's love responds to our love and our love responds to God's love. We are beginning to taste God and to realise it. God is taking us captive by love. 
Contemplation
Chapter 32 is very important, and in fact, central to the entire Way. It lays out what we get when we give in wholly to God's will. It concerns the summit of prayer or loving God and being loved by Him -- "the earth has become heaven" because of God's closeness. St Teresa reprimands those timid of such closeness with the inevitable trials: "God knows everything and he will never demand anything we cannot do with the help of his grace, which will never be wanting". In fact, she explains the grace of trials "these are God's gifts in this world … love is the measure of our ability to bear crosses". We come to realise God is great and we are nothing.
Eucharistic prayer
St Teresa then devotes Chapters 33 to 35 to the Eucharist, as she explains "Give us this day our daily bread". These are beautiful pages. God is giving us his Son every day to strengthen us.
She explains that we would not want to live during our Lord's earthly life since we have all of him now and encourages us to think of him entering our house in Holy Communion. Also, in spiritual communion that union with Jesus increases. He reveals himself when we desire him.
She comments on "Forgive us our trespasses". She is very aware of how we can forgive others when we realise how forgiven we are, nor will we play religious games in relation to our honour or reputation. True contemplatives who have tasted the joy of deep prayer have their hearts set on things other than mere passing human opinions. They love trials and tribulations and readily forgive injuries done to them.
In Chapter 38, St Teresa turns to the perils and obstacles that mark the Christian way: "lead us not into temptation but deliver us from evil".
She explains the tricks of the evil spirits -- believing we possess certain virtues when we do not, for example. All our virtues are gifts from God who can take them from us if he wishes. She points out true humility – peaceful and calm, as opposed to a false humility. She recommends that we think of God's mercy rather than being fearful about our past sins. She points out that a true lover of God will avoid even venial sin, and that a pleasant face is a sign of God's love.
Finally, we come to the contemplative's plea to be delivered from evil -- the burdens, trials and tribulations of this world. We are true contemplatives when we are longing for the full goodness of God, a true desire for eternity and not the mere sips we have at the moment.
In her last words on the Lord's Prayer, St Teresa expresses the conviction that it is Our Lord who taught her the treasures contained in his prayer, and states, "As you have seen, it comprises the whole spiritual road, right from the beginning, until God absorbs the soul and gives it to drink abundantly of the fountain of living water". Amen.