Celebrating 90 Years  – Marist Messenger 1987 — 2019
The Editors
Michael Unverricht was the editor from 1986 until 1998. His successor was Christopher Rae (1999-2000), and he was followed by Fr Carl Telford (April 2000-2004), and Fr Brian O'Connell (2005-2013). In regard to the MM's survival for so long, Fr Telford wrote that he believed it had continued "because it is part of Mary's work, present in the Church, humbly focused on helping others to pray and grow in the Christ-life. The Messenger has been distinctly Marist, touching with God's grace in many hidden ways, the lives of ordinary people".
Fr Carl Telford's first issue as editor was that of April 2000. His name was familiar to readers as he had already written many articles for the magazine.
From mid-2013 Fr Kevin Head assisted Fr O'Connell, who had been diagnosed with motor neurone disease. Fr Head became acting editor in September of that year. Fr Bernard Carney was editor from 2014 until the February issue of 2016, when Fr Kevin Head became editor.
The Secretaries
The MM has been blessed with dedicated, loyal and professional secretaries. Mrs Tris Officer had begun work as a volunteer with the Marist Messenger in 1982, in the newly-established Marist Centre at 88 Hobson St, Wellington. She sorted the membership record cards and loaded the readership list onto a computer in 1984, which enabled the printing out of monthly accounts and labels.
Tris's contribution to the Marist Messenger included design and emergency proof-reading. She had the forthrightness to state if she thought particular articles had no place in the magazine. She also represented the Marist Messenger at the annual Conferences of the Australasian Religious Press and Australasian Catholic Press Associations.
Tris remained with the Marist Messenger until her retirement in August 1997. Fr Philip Cody reported that there was a copy of the magazine in the room when Tris died on 12 January 2018.
Joanne Oliver succeeded Tris in 1997, and has continued as a wonderful asset to the magazine and its readers.
The Proof Readers
The MM has been well served by the proof reading of Professor Stuart Johnston, Rosaleen and Garry Conway, Carole Edwards, and, in more recent years, Jane Langham, with Joanne Oliver.
The Printers
From 1930 until 1952, the magazine was produced in Dunedin by the Tablet Printing Company. From 1952 until 1987, Kerslake, Billens and Humphry printed the magazine in Levin. In September 1987, CHB Printers, now called Central Design and Print, began printing the magazine in Waipukurau.
The Awards
MM has won numerous awards from the Australasian Religious Press Association and the Australasian Catholic Press Association, including the highest award, the Bishop Philip Kennedy Memorial Trophy for the most outstanding Catholic magazine, in 1989 and 1991.
Layout
August 1987 saw the introduction of better quality paper, so the pictures and photos became much clearer and the magazine had a much better look and feel to it. The December 1989 issue presented, for the first time, a full-colour layout for a good part of the magazine, and, from then on, the cover page was in colour. The February 1990 issue was mostly about the sesquicentennial of the Treaty of Waitangi.
In July 2011, the first issue in a new layout, designed by Cluster Creative, was published. The changes made then survive until the present day, with subtle changes over the years giving the magazine a tidier appearance than the original design. The size of the magazine increased from 48 to its current 56 pages. 
Glen McCullough has been the very able layout assistant, keeping everything in the magazine tidy and in proper place, except when he has been over-ruled by the editors(!), since June 2006.
Contributors
Frequent contributors during the years 1987 – 1998 included Joy Cowley, Rosaleen Conway, John Dunmore ('Partly about Books' and 'All About Books') and Frs John Rea SM, Paddy Cahill, Craig Larkin SM and Michael O'Meeghan SM.
During Fr Telford's time as editor, writers included Maria Kennedy, Philippa Winch, Fr Tom Ryan SM, Kilian de Lacy, Fr Paddy Cahill, Tricia O'Donnell and Joy Cowley.
In Fr O'Connell's time, Fr John Kelly OCSO, Pat Barrett, Stephen Sparrow, Bill Farelly, Bill Lambert, Br Kieran Fenn FMS, Kilian de Lacy and Elizabeth Isichei wrote articles regularly, and Peter McLeod, Frs Ben McKenna SM, Earl Crotty SM and Joy Cowley were regular writers of the Daily Reflections.
During following years, as well as the writers already mentioned, Glen McCullough, Anne Kerrigan, John Coleman, Fr Mervyn Duffy SM, Sue Jones, Michael Coleman and Maria Kennedy have written many articles, as have Frs Jim Vercoe, Neil Vaney SM, Philip Cody SM, Kevin Bates SM, Michael Whelan SM, Tony King SM, and Brian Cummings SM. As well, Juliet Palmer, Bridget Taumoepeau, and Elizabeth Charlton have often provided articles.
Some Highlights
May 1988
There was a 16 page colour section to celebrate the ordination to the episcopacy of Max Takuira Mariu SM on Saturday 19 March, with pictures taken by Fr Paul Shannahan SM.
March 1990
This issue included an eight-page supplement, Marist Missions Overseas, which was to appear three times each year.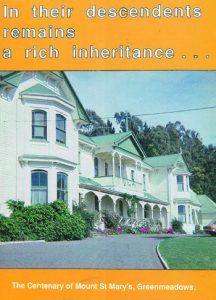 November 1993
There was a report on the ordination of the first Filipino Marist, Hermes 'Larry' Sabud SM, as well as a photo of Marist priests in a goldmine tunnel in the Philippines.
May 1997
The cover carried a photo of Bishop Stuart O'Connell SM's ordination as Bishop of the Cook Islands.
December 1998
In Michael Unverricht's final issue, he paid tribute to Tris Officer, Bob Cotterell, and proof-readers Stuart Johnston and Rosaleen and Garry Conway. The regular contributors he mentioned were John Dunmore, Joy Cowley, Judith Park, Tricia O'Donnell, Frs Tom Keyes and Jack Prendergast SM, Sue Jones, Joan Firth, Nancy Hill and Sue Waldon.
September 2005
This issue introduced a crossword by 'Appo', who was Bernard Hill of Wainuiomata -- "the first correct solution opened ... earns a prize". His successor, in 2010, was 'Max', who is still going strong.
April 2008
MM went to full colour throughout, as, in the words of Fr O'Connell, the editor, this was "not much more expensive than black and white".
July 2011
Bishop Paul Donoghue SM (below) was ordained as bishop of the Cook Islands on 18 July.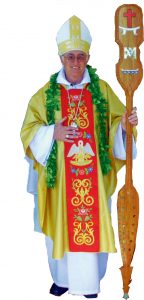 April - May 2015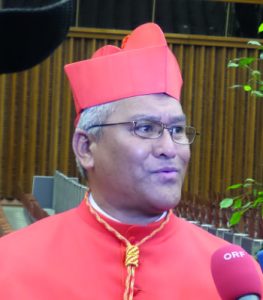 Bishop Soane Patita Paini Mafi of Tonga (above) had been installed as a cardinal in Rome on 14 February. At the same time, Archbishop John Dew of Wellington (below, left) was installed as a cardinal, and appeared on the cover of the May MM with Cardinal Thomas Williams.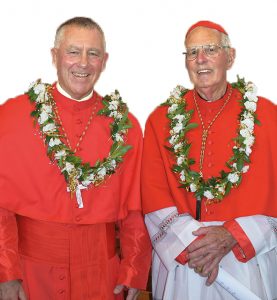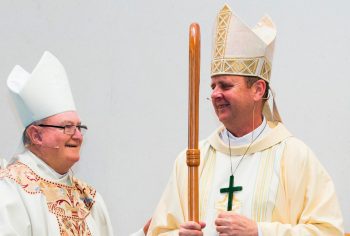 The same issue carried a photo of the new bishop of Hamilton, Bishop Stephen Lowe (above, right), with Bishop Denis Browne, bishop emeritus of Hamilton.
July 2017
This month saw the beginning of the A School for Prayer series by the late Fr Craig Larkin SM, which would continue for more than two years, finishing in October 2019.
December 2017
Fr John Larsen SM (below), a New Zealander by birth, had been elected as Superior General of the Society of Mary.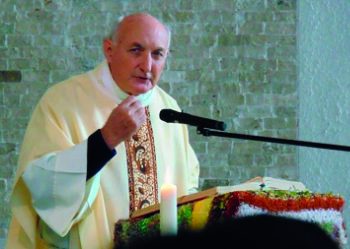 February 2018
The MM office moved from 88 Hobson St, where it had been based since 1982, to 78 Hobson St, in the newly refurbished Pā Maria Marist Spirituality Centre.
March 2018
Most Reverend Paul Martin SM was ordained Bishop of Christchurch on 3 March.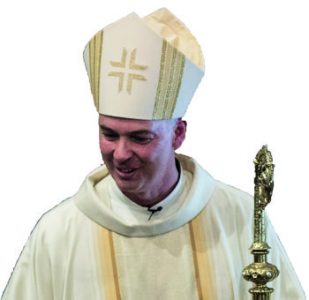 April 2018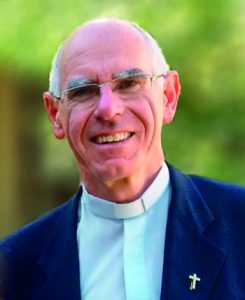 Most Reverend Michael Dooley was ordained as Bishop of Dunedin on 26 April. 
February 2019
The beginning of this series of articles about the MM's 90 years, as well as the first article in a series about the Marist family's history (continuing), and a reader survey, aimed at finding out what readers like and want.
March 2019
The Ash Wednesday cover photo was taken by Jonathan Pierce. It would win a prize in the ACPA awards later in the year (see page 21).
Fr Susitino Sionepoe SM was ordained as Bishop of Wallis and Futuna on 24 March. The first photo below is from the October 1994 MM.