Fr (Patrick) John O'Neill SM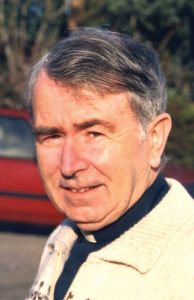 Born in Fairlie, 19 September 1926
Professed, 4 February 1944
Ordained, 17 December 1950
Died in Wellington, 28 August 2019
John O'Neill was small of stature but large of intellect, a high achiever who led a humble and simple life; one who confidently engaged with political and educational leaders, but gave his life to teaching young people at school; an intellectual with two Masters degrees, one from Victoria University (NZ) and one from Cambridge University (UK), who happily lived a quiet religious life.
Father John O'Neill had an impact on New Zealand's political and educational landscape. He was a major and significant member of the team negotiating with the government to develop the Integration Act, under which all our Catholic schools now operate. The Act was the result of a negotiated compromise, chiefly between the Catholic school system and the government. Currently, there are approximately 66,000 children in 219 Catholic schools.
Father John was a good negotiator. A sharp mind, excellent memory, patience, and a sense of humour aided him. He valued justice and fairness deeply, aiming in all negotiations for what was equitable and reasonable. He appreciated other points of view, acknowledging how important such views were to those who held them, and that any decision or compromise reached had to have some benefit for all parties.
The Integration Act could be described as a win-win for everyone, although agreement on the finer details required much negotiation with State departments and teacher organisations. As a past teacher and principal, I say thank you to Father John and his associates.
For seven years (1981-1987), Father John was the Executive Director of the New Zealand Catholic Education Office. As Director, he was responsible for the administration of Government suspensory loans, loans which enabled our school buildings to be brought up to state standards. He also represented the body of Catholic schools to government, keeping their needs in front of government policy makers.
In 1994 John became Cardinal Williams' Vicar for Education, with overall responsibility for education in the Archdiocese of Wellington. In 1990, he was awarded the Medal for Services to Education and on his retirement in 2001, received the Queens Service Medal for Public Service. Throughout all of his educational endeavours, Father John remained a friendly man who loved people and a good chat. John was born in South Canterbury and never relinquished his loyalty to the area. He was educated at St Patrick's High School (now Roncalli College) in Timaru and Mt St Mary's Seminary, Greenmeadows, and he was ordained in 1950 by Archbishop McKeefry.
Education was John's vocation and life. He loved teaching, and while he taught at three of our Marist colleges, he had a special love for St Patrick's, Wellington, where he taught for more than 25 years.
Those of us who taught traditional Maths in the 60s and 70s will remember the introduction of the 'New Maths' and the courses we had to attend. John was an enthusiastic front-runner of the new approach, and with a group of like-minded Mathematicians, known as the Reed Mathematics Group, produced and edited a series of school textbooks called The Shape of Mathematics.
As a priest, Father John was always ready to assist. He enjoyed being asked to celebrate Sunday Mass at the Cathedral or at St Brigid's, Wadestown. He was also a regular celebrant at the mid-day Mass in the Blessed Sacrament Chapel. I followed John in this duty and many people said to me how much they missed him and his little homilies.
John O'Neill was a humble, stalwart man, a priest of God, a Marist, generous and talented, committed to the greater education of youth, and happy to spend his life that others may be advantaged. May he rest in peace.  
Thanks to Fr Desmond Darby SM for this abbreviated version of his eulogy.
Appointments
1951 - 1952 : St Patrick's College Silverstream
1953 – 1959 : St Patrick's College, Wellington
1960 – October 1962 : Cambridge University, England
1962 - 1981 : St Patrick's College, Wellington
*1964 – 1980 : took part in Maths Curriculum Development with Education Department, University Entrance Board
*1973 – 1975 : Member of the Integration of Catholic Schools' Working Party
*1977-1978 : Director Programme of Marist Renewal
1982-1986 : St John's College, Hastings
1982-1984 : Superior, Hastings
1987 – 1994 : Executive Director N.Z. Catholic Education Office, living at St Mary of the Angels, Wellington
1990 : Medal for Services to Education and later the Q.S.O. for Services to Education
1994 - 2001 : Episcopal Vicar for Education, Wellington Archdiocese
1995- 2019 : Marist Centre
1 Responses »