Brother Joseph Lamb SM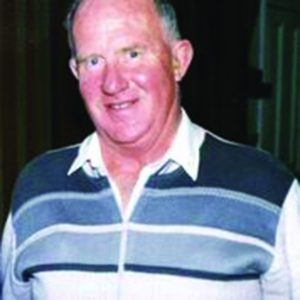 Born in Wellington, 27 June 1934
Professed at Highden on 15 August 1954
Died in Napier, 15 June 2019
John Lamb, known to most of us as Brother Joe, had an identical twin, David. Joe's mother came from Limerick, Ireland, and his father from Glasgow, Scotland. Brother Joe was very proud of his Celtic heritage. He was also very proud that David and he held the Australasian record for the heaviest born twins at that time -- an aggregate weight of 14 pounds. 
Joe was an Old Boy of St Patrick's College, Wellington. After the 6th Form, in 1952, he knew what he wanted to do. He entered the Society of Mary to train as a brother. During his time of postulancy and novitiate Joe worked with the brothers on the Highden farm, just outside Palmerston North. After his first vows he was sent to work in the Mission Vineyards at Greenmeadows under the watchful tutelage of Brother Maurice Murphy SM. Maurice and Joe were methodical men who preferred routine and dependability.
In their own way they were perfectionists, demonstrated by the way they worked and presented the vineyard. In particular, success for Joe meant the entire grape crop harvested with no waste or spoilage. He also took great pride in how the vineyard looked, and any weeds that dared grow were soon eliminated. A key part in developing Joe's expertise as a viticulturist was winning a French Government scholarship to study for 9 months in the vineyards of France. Joe gained a Diploma in Viticulture specialising in pruning and vine diseases.
Joe was very loyal to prayer and his daily spiritual exercises. Another of his frequent sayings was "Keep the rule, Brother, and the rule will keep you". Always an early riser, Joe could be found praying in the chapel before sunrise, and was then off to the vineyards soon after Mass. When I first went to Greenmeadows and was appointed to work in the cellars, one of my memories of meeting Joe was this big man in enormous work-boots, khaki trousers and a white singlet with a cluster of religious medals pinned to it. He was a man of great faith.
Despite his size and powerful presence, Joe was essentially a kind man. Not just physically big, Joe possessed largesse. He rarely, if ever, did anything on a small scale. He was a good cook and enjoyed putting on soirees consisting of multiple courses, and he delighted seeing people enjoying them. From time to time he also produced some well-aged Mission wines, carefully selected from the better vintages, which he'd stored in cannisters buried in different parts of the vineyard. Only Joe knew where they were. With changing times, and after 24 years in the vineyard, during which Joe developed the vineyard from 12 to 100 acres, he felt it was time to move on.
The ensuing years took him back to the Highden farm, where he spent 10 years before returning to Greenmeadows and looking after the grounds for 5 years. Then he was at St Mary's Ōtaki for 7 years, before returning to Hawke's Bay, where he lived in Greenmeadows and Taradale until failing health saw him shift to the Gladys Mary Rest Home. Dependability, loyalty, generosity and largesse come to mind when thinking of Br Joe, as well as humility, obedience and optimism. Joe was self-effacing in his approach to life. He accepted that changes wrought in his life were God's will for him, and consequently, he was obedient to the requests the Society of Mary asked of him. This can't always have been easy for one who put great store in a regular life and liked routines and predictability. Despite any setbacks he encountered in life, and especially in these last years of failing health, Joe maintained a cheerful acceptance and optimism. He was a faithful son whom I am sure Mary and her Son will welcome into paradise, which isn't to say that there won't be an interesting conversation with St Peter at the Pearly Gates!   
Thanks to Br Matthew Morris SM for this abbreviated version of his eulogy for Br Joe.
Appointments
1953 – June 1955 : Highden Novitiate, working on the farm
1955 June – 1979 August : Vineyards at Greenmeadows Seminary
1965 March – October : Study leave after winning a bursary to France for viticulture
1979 – August 1989 : Highden
1990 – 1995 : Greenmeadows Seminary, groundsman
1993 – in residence at Maryknoll, Napier
1996 – 1998 : Woodstock Avenue, Hastings
1999 – 2006 : St Mary's, Ōtaki
2007 – Retired -- Windsor Terrace, Taradale
2017 – Gladys Mary Rest Home, Tamatea, Napier, attached to Windsor Terrace Community