Can You Bear It?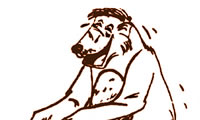 Fr O'Connor was delighted when he received an anonymous gift and when he told the praish council about it, he proposed it should be used to buy a new chandelier for the body of the church. 
However, it was put to a vote and the priest was disappointed when his proposal was narrowly defeated. Fr O'Connor noted that the parish council secretary had voted against the proposal and when the meeting was over, he asked the secretary why he had not supported it. 
The secretary said he had three reasons: "First, I have to write the minutes of the meeting and I can't spell the word; second, there is sure to be an argument over who should play it; and finally, if we are going to spend money in the Church what we really need is some good lighting".
---
A five year old girl went to work with her Dad on "Take your kid to work day".
As the girl and her Dad were walking around the office the young girl began to get very cranky and started crying. As the staff was gathering around the poor girl, her father asked her what was wrong, she sobbed loudly "Daddy where are all the clowns you said you worked with?"
---
One day Jimmy got home early from school and his mum asked, "Why are you home so early?" He answered, "Because I was the only one that answered a question in my class". She said, "Wow, my son is a genius. What was the question?" Jimmy replied, "The question was 'Who threw the can at the principal's head?'"
---
A mother texted her son, "Hi John, what does IDK, LY, & TTYL mean?" He texted back, "I Don't Know, Love You, Talk To You Later". The mum texted him, "It's ok, don't worry about it. I'll ask your sister, love you too".
---
Wife: "Our new neighbour always kisses his wife when he leaves for work. Why don't you do that?"
Husband: "How can I? I don't even know her".