March Saints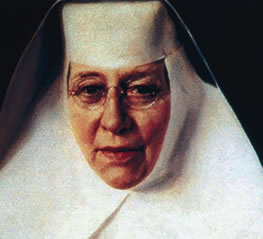 Saint Katharine Drexel
1858-1955
Born in Philadelphia, Pennsylvania, Katharine Drexel was the second daughter of Francis Anthony Drexel, a well-known banker and philanthropist. Her parents instilled in their daughters the idea that their wealth was simply on loan to them and was to be shared with others.
When the family took a trip to the Western part of the United States, Katharine saw the plight and destitution of the native Indians and was moved to do something specific to help alleviate their condition. The first school she established was St. Catherine Indian School in Santa Fe, New Mexico.
Later, in Rome, she asked Pope Leo XIII for missionaries to staff some of the Indian missions she was financing. Following his advice, she decided to give herself, along with her inheritance, totally to God, through service to American Indians and Afro-Americans. On 12 February 1891, she professed her first vows as a religious, founding the Sisters of the Blessed Sacrament, dedicated to sharing the message of the Gospel and the life of the Eucharist among them.
Always a woman of intense prayer, Katharine found in the Eucharist the source of her love for the poor and oppressed, and of her concern to reach out to combat the effects of racism, particularly in the plantations of the time.
Founding and staffing schools for both Native Americans and Afro-Americans throughout the country became a priority for Katharine and her congregation, culminating in the establishment in 1925 of Xavier University of Louisiana, the only predominantly Afro-American Catholic institution of higher learning in the United States. Religious education, social service, visiting homes, hospitals and prisons were also included in the ministries of Katharine and the Sisters.
For the last 18 years of her life she was rendered almost completely immobile because of a serious illness and gave herself to a life of adoration and contemplation as she had desired from early childhood. She died on 3 March 1955.
Saint Katharine, give us a heart for the underprivileged.
Source: www.vatican.va/news_services/liturgy/saints/ns_lit_doc_20001001_katharine-drexel_en.html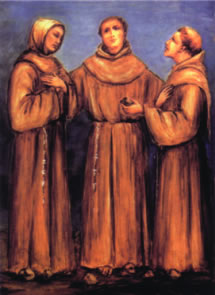 Blessed Liberatus Weiss and Companions
d. 1716
Blessed Liberatus Weiss, Michele Pio and Samuel Mazorati were Franciscan missionaries to Ethiopia in the early 18th century.
Liberatus, a German, along with Michele Pio and Samuel Marzorati, both Italians, were requested by the Society for the Propagation of the Faith to evangelise Ethiopia. The three formed a team and arrived in Gondor, Ethiopia, in July 1712. Received cordially by Emperor Justos, they were nevertheless declined permission to identify themselves as Catholics or to preach to the people.
The political situation deteriorated rapidly. Emperor Justos became ill, and, during an insurrection, the three Franciscans were arrested and stoned to death at Abbo in 1716.
Blessed Liberatus, give us the zeal to follow God's will without flinching.
Source: St John Paul II's Book of Saints – Matthew, Margaret & Stephen Bunson. Our Sunday Visitor Publishing, Huntington, IN 1999
Mathilde, the daughter of Count Dietrich of Westphalia, was raised by her grandmother, an Abbess. In 909, Mathilde married Henry the Fowler. Widowed in 936, she was noted for her piety and charitable works.
When her son Otto was crowned, she persuaded him to name his brother Henry Duke of Bavaria after he had led an unsuccessful revolt. She was severely criticised by both sons for what they considered her extravagant charities. She resigned her inheritance to her sons and retired to her country home but was called to the court when Henry again revolted. Otto put down this insurrection with great cruelty.
Mathilde censured Henry when he again revolted against Otto and prophesied his imminent death. When he did die in 955, she devoted herself to building three convents and a monastery, and was left in charge of the kingdom when Otto went to Rome in 962 to be crowned Emperor.
She died at the monastery at Quedlinburg in 968.
Saint Mathilde, teach us to be examples of peace to others.   
Source: www.catholic.org/saints/saint.php?saint_id=307