Tidying up for Christmas
There's nothing like the prospect of visitors to get me to tidy the house. Inertia is replaced by action and the house is sparkling before I know where I am. Christmas also spurs me into action. This year, December 25 is on a Tuesday, and my preparations began a year ago on the previous Boxing Day - the Boxing Day sales are a good place to get next year's cards and wrapping paper!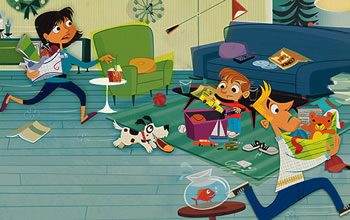 That aside, Christmas is one of those monumental days requiring a lot of preparation. House tidying is just the thin end of the wedge. It starts in earnest in November with those end-of-year functions. Then there is the gift buying (I have problems with topping up my gifts to keep everything fair until my husband jokes that I'm topping up on the top ups). It's also a nice time to get in touch with friends and family we haven't heard from in a while. We go away for Christmas, so Christmas for our family requires travel preparations and packing up the car. One year my daughter wanted to take a boogie board and the only way we could get it in was by her sitting on it. So it is fair to say I am busy in the lead up to Christmas. 
However this Christmas busyness, though stressful and tiring in places, is also quite joyful. As a family we are looking forward to the holidays. We look forward to spending time with friends and family. Gift buying is an art of bringing warmth and good will. Wrapping the gifts and placing them under a Christmas tree is exciting and fills the room with anticipation. It is as if the joy of the birth of Christ permeates our hearts and the hearts of everyone around us. It breaks down barriers. We not only want our family and friends to enjoy this festive time, but also strangers. Charities organise gift giving for children. Every year our local St Vincent de Paul group organises food parcels with Christmas treats donated by parishioners. And there's nothing like a kiwi Christmas when the Salvation Army band turns up on the back of a truck and starts playing Christmas carols.
Yet the joyful spirit of Christmas is not just directed to those around us, but also to that inner sanctum of ourselves where the presence of God and grace resides. It can start with a simple prayer - God I want a good day. Help me get done what is needed to be done and not worry about the rest. Help me be open to the goodness of others. Guide me in all my thoughts and actions. Amen. Our prayer can be even shorter - God please stay close to me in this day. Or shorter still – God help, it's Christmas! It comes with the belief we are called to serve others, and at Christmas time we want to try that little bit harder. 

Our inner preparations during Advent can also include getting a 'spiritual cleanse' through fasting, receiving forgiveness of our sins in confession and giving alms. These age-old traditions of the Church are the tried and true methods. It is in these actions where we find some real treasures. Fasting teaches us self control. Receiving forgiveness brings peace. Being generous opens us to the joy of giving.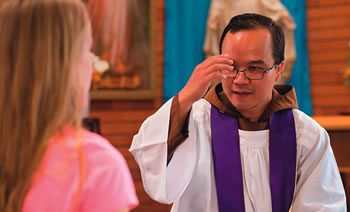 With our inner mindfulness we can also become aware of the presence of God in our lives. The presence of God is like an air of grace which is light, warm and comfortable and where all things work to the good. It's not, that in awareness of this presence, that life is a breeze, but rather that you are aware that you are held by grace within the chaos. When making a difficult decision in prayer, you can see in retrospect, a correct course of action. When you marvel that you ended up at the right place at the right time, you can give thanks for God's graces that got you there. When you become aware of the goodness of people, especially in a calamity and everyone is trying to help, you are consoled by the goodness of life. When the most difficult Christmas gift you sweated over the most, turns out to be just the ticket, you realise those few muttered Hail Marys were well worth it.
I remember one year being in the car with my husband at Christmas time. I was tired and fed up with all things Christmas. 'I want a park right outside the shopping mall,' I demanded. 'Well you won't get that,' he replied. 'St Anthony, please give us a park right outside.' I pleaded. 'You'll be lucky.' The next thing, as we approached the mall, not one, but three cars pulled away from the curb, leaving us with more than enough room for a park. It was such a nice moment of surprise that we both had to smile. Through the eyes of faith, we saw in that grace-filled moment, that my prayer was well answered, and that answer to prayer gave us an unexpected Christmas joy.
It's all go in New Zealand as we approach the end of the year. It's summer time, the holidays are on the horizon and, by the way, it's nearly Christmas. Amid all the end-of-year parties, school breakups and Christmas preparations we can also be mindful of the birth of Christ in that humble stable, because there was no room in the inn. Perhaps we can try to find a little bit of room in our hearts for Jesus this Christmas in our prayers, our Advent preparations and our care of others.