St Patrick's Church, Sydney (3)
Anniversary Year 2018
Archdeacon John McEncroe
The first Parish Priest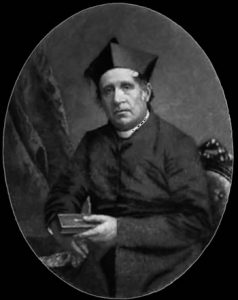 In those earliest days, St Patrick's and St Brigid's were Mass centres, served by priests based at St Mary's Cathedral. St Brigid's is in fact the oldest place of Catholic worship in Australia. Governor Richard Bourke approved the site and building plan in 1833: "for a Roman Catholic School House, to be occasionally used as a Chapel."
Peter McMurrich writes:
"From the mid-1850s, names of priests connected with St Patrick's begin to surface with greater regularity. The Catholic Directory published for the 1854 ecclesiastical year lists the Rev J Meagher assisted by Rev D V O'Connell OSB as priests responsible for St Patrick's. Regular Sunday and weekday Mass times are given, and confessions were heard each morning, on Friday and Saturday evenings, and on the eve of major feasts. There was a catechetical instruction every Sunday at 3pm (probably a form of Sunday school for children), and vespers and a lecture later that day commencing at 4pm. …. It seems reasonable to conclude that, by the mid-1850s, at least, St Patrick's was operating more or less as a separate parish rather than as merely a Mass centre serviced from St Mary's."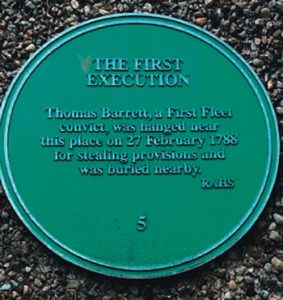 Archdeacon John McEncroe, born in County Tipperary, Ireland, in 1794, had arrived in Sydney in June 1832. He was appointed the first Parish Priest in February 1861. McEncroe had come from the United States, where "his experience included seven years in a frontier American diocese with a forward looking bishop who encouraged lay participation in running the diocese."   McEncroe seems to have been a man of energy and vision. Among other things, he was the prime mover in getting an Australian Catholic newspaper published. In time it became known as the Freeman's Journal and continued for nearly a century from 1849.
Fr Ed Campion also notes that, during his first three years in the Colony – in the mid-1830s – McEncroe accompanied seventy five men to the gallows. (About one hundred metres from St Patrick's there is a plaque – at the corner of Harrington and Essex Streets – noting that the first man was hanged in the colony near there on 27 February 1788. His name was Thomas Barrett and his crime was stealing food. He was buried nearby.)
McEncroe purchased the Davis house and land in 1861 for £1500 and made it the presbytery. A recovered alcoholic, it seems McEncroe was assigned to help fellow priests struggling with the same problem, as more than one of those priests sent to assist him at St Patrick's was an alcoholic. Several French Marist priests also assisted McEncroe at St Patrick's. One of them, Fr Zephirin Muraire, became McEncroe's confessor and heard his last confession on 20 August 1868. McEncroe died on 22 August 1868. 
Joseph Monnier SM
First Marist Parish Priest
Archdeacon McEncroe's funeral Mass was celebrated at St Mary's Cathedral on 25 August, 1868. At that Mass, Archbishop Polding's Vicar General, Fr Austin Sheehy, approached the Marist regional superior, Fr Victor Poupinel SM, and asked him whether the Marists would be willing to assume the ministry at St Patrick's. Fr Joseph Monnier SM became the first Marist parish priest of St Patrick's Parish. The Freeman's Journal of Saturday 19 September 1868 carried the following report:
"Tomorrow, Sunday, September 18th, Rev Father Mounier (sic), one of the members of the Society of Mary, is to be duly invested as the head priest at St Patrick's. To him and his brother members of the French Society has been entrusted the continuation of the pious work already so well begun by our lamented Archdeacon."
McMurrich observes: "In proposing Joseph Monnier as the first Marist parish priest of St Patrick's, Poupinel was fortunate to have a man capable of rising to a formidable challenge: namely gaining acceptance as a French priest in a parish with a proportionately high Irish parishioner base." 
Monnier was a brilliant student in the seminary. As a newly ordained priest, he had, in the 1850s in France, gained a high reputation as a parish missioner and preacher of retreats. It was said that he spoke with clarity and simplicity. Archbishop Polding asked him to take care of the parish at Penrith when the parish priest there died in 1865. He then worked for three months in the parish at Campbelltown. Whilst in Campbelltown, at the request of Fr Dillon of Balmain, Monnier took the train to Balmain each Sunday after his Masses in order to preach the evening sermon at St Augustine's at Balmain. This sort of generosity, energy and pastoral commitment was typical of Monnier. John Hosie writes:
"He never spared himself, and some idea of his activity can be gauged from an outline he sent to Poupinel of his programme during a two month period in Queensland: 7 to 16 July: Retreat to Sisters (Brisbane); 18 to 30 July: Mission at Maryborough; 1 to 4 August: Ipswich then Toowoomba then back to Brisbane; 5 to 10 August: Retreat to priests (Brisbane); 11 to 18 August: Retreat to priests of St Patrick's (The Valley) Brisbane; 19 to 28 August: Retreat at Cathedral; 29 August to 2 September: Retreat to Convent School pupils." 
Joseph Monnier died on 15 September 1874. An estimated 40,000 people attended his funeral and lined the sides of the road to farewell him. He was buried at St Charles, Ryde. When his confreres returned to the presbytery after the burial, they discovered that people had gotten into his room and stripped it in search of relics.
St Brigid's Church, Miller's Point
"When Joseph Monnier took over the parish of Church Hill on behalf of the Marists, he found himself responsible not only for St Patrick's church, but also for St Bridget's. It proved to have a very interesting history.
"St Brigid's, as the spelling now is, is the oldest Catholic building in Australasia still in use for its original purpose. It is in one of the earliest settled parts of Sydney, and stands at the northern end of Kent street, close to Argyle Street, Miller's point. The present St Brigid's is a two-storey building, the upper storey being a not very attractive cement plastered addition, made in 1930 to the original sandstone structure. The original structure dates back to William Bernard Ullathorne.
"When Ullathorne arrived in Sydney, early in 1833, no completed Catholic church of a permanent construction was standing. Mass was usually celebrated in existing publicly owned buildings, such as courthouses or schools. St Mary's Cathedral, although begun in 1821, lacked floor, windows and roof. Ullathorne made an official request 'for ground for a Catholic school house' on 11 June 1833."
Hosie notes that the piece of land Ullathorne had requested – land that Governor Sir Richard Bourke had agreed to give the Church – was not the land given. Another piece of land was given. St Brigid's stands on that alternative piece to this day. Hosie continues the story:
"The purpose for the building, constructed at government expense, was stated to be 'as a site for a Roman Catholic School House, to be occasionally used as a Chapel'. The grant was gazetted on 1 August 1833 ….. 
"A few weeks later, Ullathorne, after advice from the colonial architect, outlined in detail what he wanted. ….. (He) suggested that the building could be 'very plain'. …. The building material is the local sandstone, most probably quarried from the hill immediately behind. The blocks still carry the chiseled marks made by the convict stonemasons." (The construction was completed in April 1835. The following year's records show that  there were 76 boys and 45 girls attending the school, then known as Kent Street North School.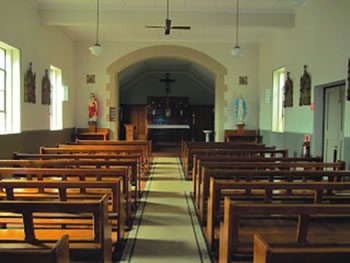 In March 1843, three Christian Brothers arrived from Ireland. One of them – Br Francis Larkin – was placed in charge of the Kent Street North School. Under the care of the Christian Brothers, it became an all boys' school. After serious disagreements with Archbishop Polding, the Christian Brothers soon left. The school became the responsibility of the Marist Fathers under Joseph Monnier in 1868. The much-loved Sr Mary Joseph RSM – the last of a number of Sisters of Mercy principals – was there for its closure in 1992. During those years it was occasionally used also as a Mass centre. Now, the first floor of the building is St Brigid's Church, part of the parish of St Patrick's. The upstairs is commercially leased.