A Mother's View Of Our Lady
When we are troubled, and pray for help, Mary has been there before us. She understands how we are feeling, and can ask God to strengthen and help us. She lived through so many crises in her life.
She was a young girl, pregnant to an unknown (to others) person. As such, she was likely to be the butt of scandal and condemnation. However, her fiancé married her, giving her the protection of his name and home. Some months later, to satisfy the government bean counters, they had to take a trip to register their existence as belonging to the House of David. This had to be in David's city Bethlehem, in Judea.
Mary was in late pregnancy, and her labour pains started. They could not find anywhere for her confinement. People turned away from assisting her.
She gave birth in a grubby, smelly old shed where animals sheltered from the weather. The new family were visited by angels with beautiful music, by shepherds, and then, by total strangers bringing unusual baby gifts, but who gave warning of impending trouble. The new Baby was in danger!
To save their Baby's life, they were forced to escape secretly, to a foreign land and hide - refugees - far from home, no family support, no grandmothers there with advice and help.
After a time, they were able to return home and started to live normal lives.
When the Child Jesus was 12 years old, they made their annual trip to Jerusalem for the Paschal feast, celebrating the Passover.
But their teenager took off, causing consternation. They didn't find him for three days. When reprimanded, he seemed to have a totally different agenda from theirs. But He returned home with them and caused no further trouble or worry.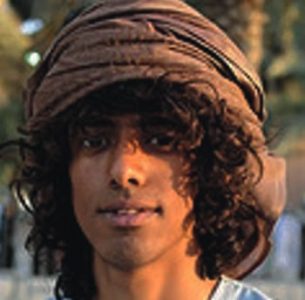 In later years, Joseph died and Mary became a widow and had to rely on her Son for support. When an adult, He took off again. He wanted to help others, and preached love and forgiveness. He mixed with 'undesirables.' He wandered throughout the country with His mates and seemed to adopt some of the way-out ideas of His cousin, John.
Some of their extended whanau were annoyed and hassled Mary. What was He doing to the good name of the family? Just look at the state of His father's workshop and tools. Why, Joseph would turn in his grave! Jesus needed to be brought back home, and to settle down.
After about three years of this life, His controversial beliefs outraged the establishment. The religious and civil leaders were furious with the ideas that He put forward and they had heard enough of Him. After secret consultations, the priests urged that He be put to death. That would finish all the trouble!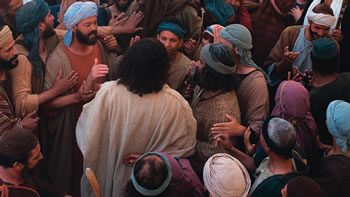 Mary had to witness His torture and death as a criminal. She suffered all that He suffered, this Son who had been her beautiful baby boy. During His death throes, He gave the responsibility for His Mother's care to His youngest mate, John, knowing that an older woman, alone, would find it hard to survive.
He called out in his agony for His Father, asking why He was abandoned. He shuddered, and He died.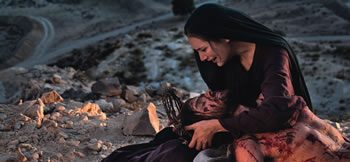 Mary, grief-stricken and shocked, found it difficult to even stand. The earth was shaking in a huge earthquake, and then the sky became dark. It stayed dark for hours. The entire natural world seemed appalled by what humans had done to the Son of our Creator. 
Their friends helped Mary with her Son's body. They took it down from the cross and let her hold Him. After a simple ritual, they anointed the body with spices, wrapped it in funeral cloths and put the body in a tomb.
He came back to life after three days
But in a matter of weeks, He had gone from our physical world, leaving His followers with a renewed Spirit, a physical and spiritual participation in His Life, and a huge job to do - go tell the world.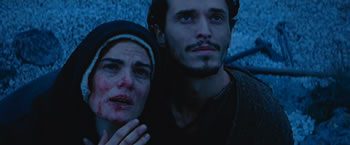 Her adopted son, John, took Mary off to yet another strange country, and a new home town, Ephesus, where she had to start all over again, new language, new friends, new home. She had to get to know the neighbours, where the shops were, who was the best trader and where the bargains were.
There Mary lived till her death, when God, Whom she so pleased, took her, body and soul to heaven.
So if we think we have troubles , Mary has experienced so many troubles herself, she is our Mother, and she has a deep understanding and sympathy for us.