Can You Bear It?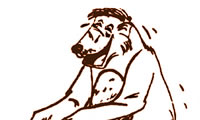 A hundred-year-old opal miner died recently in Coober Pedy. He was asked on his last birthday earlier this year his secret to longevity and he said that for the past 50 years he has sprinkled a little gunpowder on his Weetbix each morning. He left behind 8 children, 21 grandchildren, 32 great-grandchildren, and a five metre hole in the crematorium.
---
A keen new parish priest introduced a number of improvements in his church, including hot air dryers in the toilets. He had them removed after a couple of weeks because someone stuck a notice on one of them which read, "For details of last week's sermon, please press here."
---
"Pardon me, lady," said the man trying to get back to his seat in the darkened movie theatre, "but did I step on your toes a few minutes ago?" "You certainly did!" said the woman in the aisle seat. "Good, then I'm in the right row," the man said as he went back to his seat.
---
Two TV aerials met on a roof. They fell in love and got married. The ceremony wasn't great, but the reception was excellent!
---
Nicholas had to give a speech at the end of the school year. He began by reading from his notes, "I want to talk about my mother and the wonderful influence she has had on my life. She is a shining example of parenthood, and I love her more than words could ever do justice." At this point he seemed to struggle for words. After a pause, he looked up with a sly grin and said, "Sorry, but it's really hard to read my Mum's writing!"