Breathing Beyond Here and Now
The Smile
I shot a smile into the air,
It came to earth I know not where;
Perhaps on someone else's face
In some forgotten quiet place.
Perhaps somewhere a sleeping child
Has had a happy dream and smiled,
Or some old soul about to die,
Has smiled and made a little sigh.
Has sighed a simple, final prayer
Which lifts up gently in the air
And flows into the world, so wild,
Perhaps to wake the sleeping child.
Michael Leunig
This tender musing from Leunig images for us our deep connection with one another and with all creation. The wisdom of many ages and cultures has expressed this truth in many ways. Our own Christian story is full of poetry, music and anecdotes which alert us to the fact that none of is an island and that as St Paul reminds us, each of our lives has its impact on those around and beyond us.
Still and all, we can so easily become encased in our own little circle and not much beyond there impacts on us. I watch the ABC and so am not aware of the news priorities on the Nine Network and vice versa. I am Catholic, and so am not much interested in the struggles, needs or celebrations in our other neighbouring Churches. They're our brothers and sisters in faith, but do we know them?
Even within the Catholic community, we belong to a Deanery, a group of fourteen parishes stretching from Lavender Bay, Mosman, Beauty Point to Meadowbank and Denistone. How much are we aware, and how often do we call to mind, in prayer, our sisters and brothers in these communities?
We do pick and choose our news and what interests us, and to be fair, there is only so much we can take in. A startling omission on Nine News the other evening struck a nerve when we saw a full report on the impact of Cyclone Matthew on our friends in the southern States of the US, and no mention was made of the one thousand plus who had died in Haiti along with the thousands of devastated survivors.
Do our filters allow us to ponder the suffering of the families who remain holed up in Aleppo? Do our prayers extend to the people of Mosul who have been under ISIS control for two years and whose liberation is likely to cost many innocent lives? Do our hearts ache for the people of Yemen being bullied and butchered by the Saudi military? Most of them are Muslims of course, so are they really our concern?
Then there are people down the street, a suburb or two away, and even family members who are too hard to handle.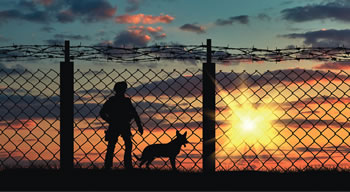 Where are my borders? Do I feel secure when I hear our political leaders speaking robustly about border control or is there a small voice inside me that says something is not quite right here and that my/our borders could do with a little re-examination?
The open arms on the Cross are our invitation, along with the open hands with which we receive the Eucharist each time we come to taste the Lord's hospitality. If that's the case, we are constantly on the watch for the smile that may touch our hearts from elsewhere, the breath we may breathe that may enliven a heart beyond our own.
Gently, persistently God's own breath, God's own smile invites us to receive thankfully his grace and then to breathe thoughtfully ourselves, so that the healing of our world, becomes our heartfelt mission.
Let's breathe and smile with a new spirit this week. God knows whose lives we might touch with the grace God has entrusted to each of us.
This article was written in October 2016